Abdon was surprised with the scholarship after a previous winner decided to attend an out of state college.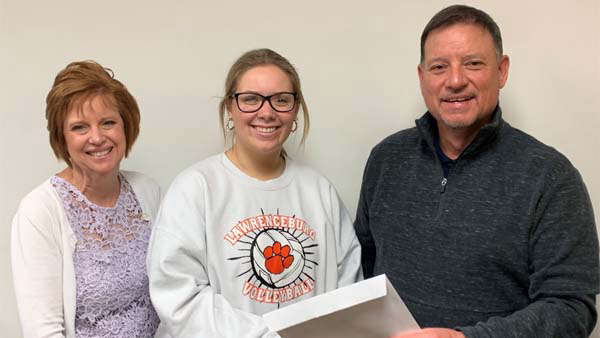 DCF Executive Director Fred McCarter and Accountant Cheryl Wessel surprised Lawrenceburg High School senior Hailey Abdon (center) with the news she's been awarded one of two 2023 Lilly Endowment Community Scholarships for Dearborn County. Photo provided.
(Lawrenceburg, Ind.) - Hailey Abdon received the surprise of a lifetime today when the Dearborn Community Foundation, Inc. (DCF) awarded her the prestigious Lilly Endowment Community Scholarship (LECS) for 2023. The Lawrenceburg High School senior, who was one of six LECS finalists in Dearborn County, had learned in mid-December 2022 that she did not win one of the two full-tuition scholarships awarded by DCF.
In December, DCF awarded 2023 Lilly Endowment Community Scholarships to East Central High School's Elizabeth Kirchgassner and South Dearborn High School's Ava Slayback. Slayback had another opportunity for a full-tuition scholarship at an out-of-state college and in February declined the Lilly Community Scholarship to attend Mount Saint Joseph University, Cincinnati.
When Slayback declined the scholarship, the Independent Colleges of Indiana (ICI) scholarship guidelines for the Lilly Endowment Community Scholarship kicked into gear. The guidelines call for DCF to also select a first and second alternate in case a student, like Slayback, chooses to decline the scholarship. Caitlyn Dick of East Central High School was the first alternate and DCF awarded the Lilly Endowment Community Scholarship to her in February.
What Abdon didn't know until today is Dick had a scholarship opportunity to attend the University of Tennessee to study Veterinary Medicine. Annually 147 Lilly Endowment Community Scholarships are awarded in Indiana and, according to ICI, Abdon is among about 5-8 students annually who are awarded the scholarship after other students choose to decline it. The most common reason for a student to decline the scholarship is because they have chosen to attend an out-of-state college. The LECS recipients must attend an Indiana college.
Abdon, who learned the great news from DCF Executive Director Fred McCarter today during a surprise visit to her high school, receives full tuition, required fees and a special allocation of up to $900 per year for required books and required equipment for four years of undergraduate study on a full-time basis leading to a baccalaureate degree at any eligible Indiana public or private nonprofit college or university. Lilly Endowment Community Scholars may also participate in the Lilly Scholars Network (LSN), which connects scholars with resources and opportunities to be active leaders on their campuses and in their communities. The scholarship program and LSN are supported by grants from Lilly Endowment to ICI and Indiana Humanities, respectively.
"Hailey is fine young woman who was selected among an excellent group of applicants for the high honor of receiving the Lilly scholarship," McCarter said. "What's great is that all three of these young women will be attending the college of their choice with the aid of scholarships. Our community should be very proud of them."
Abdon of Greendale is the daughter of Heather Lange and Brandon Abdon. She plans to study Veterinary Medicine but is undecided on a college of choice. Learning that she received the Lilly Endowment Community Scholarship three months after being told she did not win the scholarship was a bit shocking and confusing.
"I'm very shocked! I wondered why I was called to the office. I'm so excited. I can't wait to tell my family," Abdon said.
Abdon said she was already honored and excited to be one of the six finalists for the 2023 Lilly Endowment Community Scholarship, but "it's awesome to actually receive it. I feel so fortunate!"
At Lawrenceburg High School, Abdon is a member of the National Honor Society, Spanish Honors Society, Spanish Club, Show Choir, Key Club, and Student Council. She also participated as a member of the varsity swim team and was a volleyball manager, earning a varsity letter for both. Abdon also found the time to work as a babysitter and a pool lifeguard. She completed many hours of community service, including Arts and Crafts in the Park and the Flying Pig Marathon.
Caitlyn Dick, the daughter of Blake and Kelly Dick, West Harrison, says she was honored to receive the Lilly Endowment Community Scholarship, but made the decision to pursue her future and dreams by attending the University of Tennessee.
When it comes to the student who now receives the Lilly Scholarship, Dick said: "I hope they are happy that they get it and can do something with it. … I made the decision to pursue my future and my dreams. I hope they can do the same thing."
Lilly Endowment Inc. created the Lilly Endowment Community Scholarship Program for the 1998-1999 school year and has supported the program every year since with tuition grants totaling more than $486 million. More than 5,000 Indiana students have received the Lilly Endowment Community Scholarship since the program's inception. The primary purposes of the Lilly Endowment Community Scholarship Program are: 1) to help raise the level of educational attainment in Indiana; 2) to increase awareness of the beneficial roles Indiana community foundations can play in their communities; and 3) to encourage and support the efforts of current and past Lilly Endowment Community Scholars to engage with each other and with Indiana business, governmental, educational, nonprofit and civic leaders to improve the quality of life in Indiana generally and in local communities throughout the state.