This weekend will kick off the Lawrenceburg Holiday Market... perfect timing for Small Business Saturday!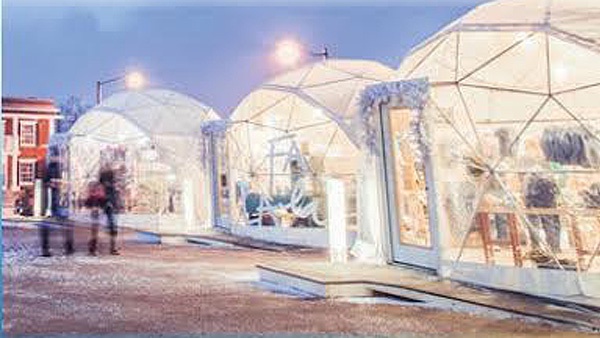 (Lawrenceburg, Ind.) - Lawrenceburg is celebrating the season of gift giving with the Winter Wonderland Domes.
Starting this Friday, November 29, Lawrenceburg Main Street will be hosting the Holiday Market featuring the Winter Wonderland Domes at the Lawrenceburg Civic Park.
The Holiday Market will continue November 30, December 1, 5-8 and 12-15.
Different vendors will be rotating through the Winter Wonderland Domes each weekend. A large selection of unique gifts will be available.
McCabe's Greenhouse & Floral and P.A.W.S. (only Saturday and Sunday) are expected to be featured the first weekend in the domes. Complimentary s'mores will be offered this Friday. The second weekend will include Accessories, Leggings & Handbags, Fancy Llama Kids' Clothes & Stuffed Animals, and Alchemist.
Your last chance to shop the domes will feature Harmony Way, Ceramics by Brandon Hoffman, and Amy's Christian Bookstore.
Short holiday films and musical entertainment will be available for visitors throughout the holiday market.
Live Christmas Tree sales will be available and proceeds will help fund the FOP Auxiliary Cops and Kids program.
The market will be opened from 4 - 8 PM on Thursdays, 4 - 9 PM on Fridays, 11 AM - 7 PM on Saturdays, and 12 - 5 PM on Sundays.
Lawrenceburg Main Street will also host Small Business Saturday on November 30. Enjoy specials and sales all day at participating locations. Plus, complete the special Snowman Scavenger Hunt between 11:00 a.m. and 2:00 p.m. and receive a box of holiday cookies.
For more information and a full list of vendors and attractions, visit thinklawrenceburg.com.