Students heard from three local drug addicts about how decisions can make or break them.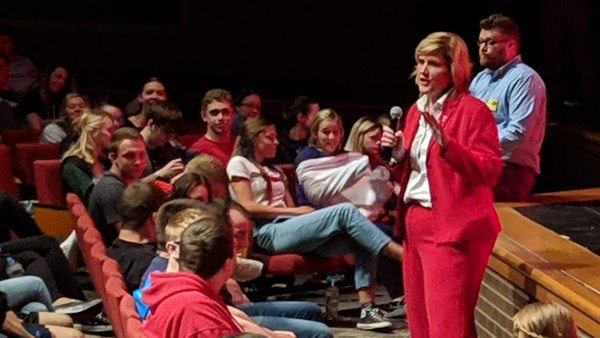 Dearborn-Ohio County Prosecutor Lynn Deddens addresses East Central High School students. David Alec Schiering (right) shared his drug addiction experiences with students. Photo by Mike Perleberg, Eagle Country 99.3.
(St. Leon, Ind.) – East Central High School students will go to prom on Saturday knowing that one bad decision could completely change their life.
Three current and past participants in Dearborn County's Jail Chemical Addiction Program shared their stories with students during an assembly in the school auditorium Thursday. The presentation was put on by Dearborn-Ohio County Prosecutor Lynn Deddens.
"JCAP saved my life. It helped me learn a few things," said former East Central student David Alec Schiering.
Schiering returned to his alma mater where he played football. He was at one time a local volunteer firefighter.
When he suffered an injury, a doctor prescribed him Percocet. The opioid prescription sent him down a dark path toward heroin addiction. The addiction ruined his relationship with friends and family.
Eventually he landed in the Dearborn County jail.
"You have no idea how you ended up there," Schiering said, recalling how his mother would visit him in jail.
During his incarceration, Schiering was admitted into JCAP. It helped him learn to become self-aware and realize his intrinsic value.
He's become a golden example of how the program helps save lives. Today, Schiering is the owner of a pharmaceutical company – he does not sell controlled substances. He also served on the board of a national quick response team, or QRT, organization. He also serves on a task force with the Indiana Attorney General's Office.
"I own that I am a heroin addict, but who I am today is not who I was seven years ago," he told students.
But the effects of his past actions linger, he warned students. As a convicted felon, he has lost the right to vote, leave the United States, or own a firearm. Schiering said he applied this week to have his past convictions expunged from his record.
Schiering communicated that individuals are products of their environment.
"Show me the five people you hang out with the most and I will show you your future," he said.
He urged the the EC students to be personally accountable not only on prom night, but every day.
"This weekend you are going to have all kinds of thoughts going through your head about what you want to do, what people are doing around you – but be aware," he said.
Two current Dearborn County Law Enforcement Center inmates appeared on the stage in their jail jumpsuits and handcuffs under the watchful eye of deputies. A male inmate, also an East Central graduate, said he remembered sitting through the same school assembly program when he was in high school.
He was a clean athlete when at East Central. He believes his path to drug addiction started with smoking a cigarette. Then marijuana. Then Xanax.
Now, he is serving a 30 years sentence of 10 years in jail followed by 20 years on probation after committing an armed robbery to fuel his drug addiction.
"My life is in the system now," he told students. "It blows my mind how quickly my life has changed."
He is going through JCAP for the second time.
"I want to help at least one of you all not end up like me."
RELATED STORIES:
Mock Crash A Powerful Warning For S. Dearborn Students During Prom Week