The scholarship is being offered to adults 18+ seeking a credential or required classes for advancing employment.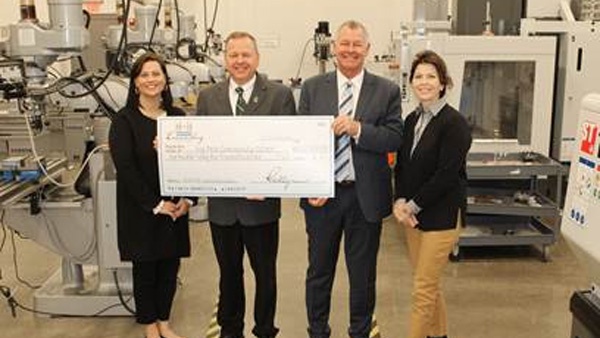 Pictured in one of the manufacturing labs at Ivy Tech's Lakefront building from left to right: Ivy Tech Foundation Director of Development, Loretta Day; Ivy Tech Community College Chancellor, Mark Graver; City of Lawrenceburg Mayor, Kelly Mollaun and City of Lawrenceburg Communications Director, Guinevere Emery). Photo provided.
(Lawrenceburg, Ind.) - The Ivy Tech Community College Lawrenceburg Campus is now offering an EdOPP scholarship to adults 18+ seeking a credential or required classes for advancing employment. This scholarship was made possible in part by a $125,000 grant from the City of Lawrenceburg to help improve Lawrenceburg's workforce and pay for a college education. Ivy Tech is awarding students on a first-come, first-served basis, up to $5,000 per student, per year. If a student receives federal or state aid, the scholarship funds will be applied to any balance after financial aid is credited.
"On behalf of City Council and myself we are excited to partner with Ivy Tech to provide a great opportunity for local adults to better their personal and family situation," said Mayor of Lawrenceburg Kelly Molluan. "We take great interest in helping our local adults with this creative initiative."
The student must also be enrolled in classes offered in the Lawrenceburg service area and can attend either full-time or part-time as there is no credit hour limit to take per semester. Individuals that already have a degree are eligible. However, Ivy Tech reserves the right to prioritize students on a case-by-case basis depending on the needs of the community.
"On behalf of Ivy Tech Community College, we are extremely grateful for the generous funding provided by the City of Lawrenceburg," Ivy Tech Lawrenceburg Chancellor Mark Graver said. "These dollars will provide scholarships for adults in our community that are interested in gaining college experience and earning a degree or credential to enhance their career goals in the local workforce."
There is no additional application for the EdOPP scholarship, but students must apply to Ivy Tech and follow the enrollment process. Students are also responsible for notifying their local Registrar's office of their potential eligibility.
For more information, contact: R11Express@ivytech.edu or call us at 537-4010 x5305