Nearly 60 percent of the state's voting machines do not include a verified paper trail for votes.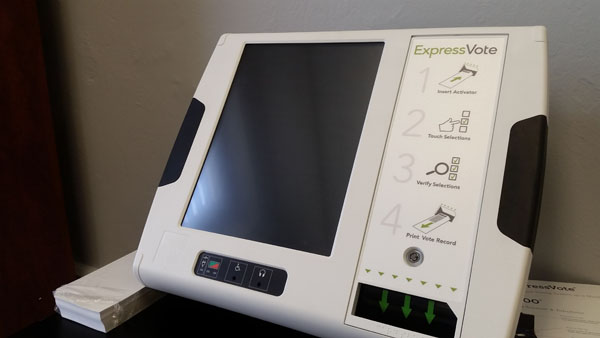 This is the BMD model used in Dearborn County. File photo.
(Bloomington, Ind.) – A recent study shows that a majority of Indiana's voting machines are vulnerable to security issues.
The Indiana University Public Policy Institute released their findings earlier this month.
One of the key findings of the study is that 52 of Indiana's 92 counties use direct-recording electronic voting machines (DREs) that do not include a verified paper trail for votes. These machines account for nearly 60 percent of the state's voting equipment and affect the majority of Hoosier voters.
Other technologies for computer-assisted voting include optical scanners, ballot-marking devices (BMDs), and direct-record electronic (DRE) voting machines with verified voting paper audit.
Indiana is one of only eight states to still use DRE machines without a verified voting paper audit (VVPAT). When using a DRE without a verified voting paper audit, voters make their selection through either a touch screen or push-button interface. Votes are stored in the computer memory and do not leave a paper record.
The implications of using such a machine can leave Indiana vulnerable to several election security issues. Without a paper record of votes that were cast, it can be difficult to detect breaches or errors in the system, or to verify vote totals if an issue is uncovered.
Locally, Dearborn County uses BMDs for all voters. BMDs do not store or count on the machine itself. Instead, votes are printed out so they can be scanned by a reader.
Ohio, Ripley and Franklin counties use hand-marked paper ballots and DREs for accessibility without VVPAT, while Switzerland County uses DREs without VVPAT for all voters.
"Efficient and accurate voting systems play a pivotal role in maintaining voter confidence in the election system. Russian interference in the 2016 U.S. presidential election and other incidents have emphasized the need for the country to rethink the security of its existing voting infrastructure. This can include ensuring safe and secure polling places, up-to-date voting equipment, and verifiable paper records of votes," the study reads.
The IU Public Policy Institute issued the following recommendations:
Jurisdictions that are unable to update their machines prior to the November 2020 election, should take extra care in storing, maintaining, and testing machines before and after the election.
Local officials should adopt effective practices for machine maintenance, as well as support the training of poll workers for tackling system failures and emergencies on the election day.
Election officials should consider upgrading their plans for post-election audits to catch miscounting of votes or to find manipulated votes
See the full study at https://policyinstitute.iu.edu/doc/indiana-voting-security-brief.pdf.