ISTEP pass rates from the Spring 2018 test are relatively stagnant compared to the previous year.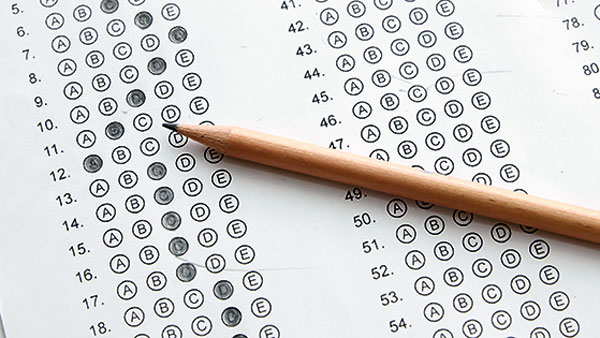 (Lawrenceburg, Ind.) - ISTEP test results are out for Indiana schools, but they show little to no improvement in the frequency of students who passed both English and math tests.
Results released Wednesday by the Indiana Department of Education are for the standardized test given to 3rd through 10th graders last spring.
State lawmakers adopted tougher education standards in 2014 when they bucked Common Core standards. ISTEP pass rates dropped dramatically when the new standards were put in place. The pass rates have yet to recover to levels seen prior to 2015.
More Indiana schools saw their passing rates drop than those who saw an increase. Only 50.7 percent of 3rd through 8th graders statewide passed both the English/language arts and math portions of the exam, a decline from 51.4 percent last year. Only a third of 10th graders passed both, down from 34.3 percent in 2017 to 33.7 percent in 2018.
Locally, the percentage of 10th grade students passing both English and math on the ISTEP ranged from 60.1 percent at Batesville High School to just 18.6 percent at Switzerland County High School.
Among 3rd through 8th graders, South Ripley Community School Corporation had the highest pass rate in both subjects at 68.0 percent. Switzerland County had the lowest in our five-county region, at 39.6 percent.
Private school performance was not always better than local public schools. St. Michael School in Brookville brags the area's highest 3rd through 8th dual subject pass rate at 76.6 percent, but St. Mary School in Aurora had 50.8 percent pass both.
Among 10th graders, Oldenburg Academy's pass rate in English and math was 35.7 percent.
"ISTEP+ is one of the many tools Indiana uses to measure student achievement and this year's results indicate we are moving in the right direction," said Dr. Jennifer McCormick, Indiana Superintendent of Public Instruction. "Indiana's classrooms are full of dedicated educators who spend each day preparing our children for academic success, and I am grateful for their hard work."
While many schools have been administering the test by computer for years, the most recent round of testing was the first time schools were expected to transition to online assessments as the primary delivery mode. According to the IDOE, 2.6 million assessments were given successfully online across all grades and content areas.
The state is planning to replace the ISTEP exam with the new ILEARN assessment in the spring of 2019. The DOE says ILEARN will assess the same Indiana Academic Standards as ISTEP, but it will be require less testing time. In Grade 10, ISTEP will continue to serve as the accountability assessment through the class of 2022, after which the state will transition to the Graduation Pathways.
3rd-8th Grades By Corporation
Corporation

Both Math and ELA
Percent Pass

Sunman-Dearborn Com Sch Corp

58.7%

South Dearborn Community Sch Corp

47.0%

Lawrenceburg Community School Corp

54.0%

Rising Sun-Ohio Co Com

46.5%

South Ripley Com Sch Corp

68.0%

Batesville Community School Corp

65.6%

Jac-Cen-Del Community Sch Corp

58.5%

Milan Community Schools

41.6%

Switzerland County School Corp

39.6%
Data source: Indiana Department of Education
3rd-8th Grades By School
Corporation

School

Both Math and ELA
Percent Pass

Sunman-Dearborn Com Sch Corp

North Dearborn Elementary School

69.8%

Sunman-Dearborn Com Sch Corp

Sunman-Dearborn Middle School

56.2%

Sunman-Dearborn Com Sch Corp

Bright Elementary School

60.1%

Sunman-Dearborn Com Sch Corp

Sunman Elementary School

50.5%

South Dearborn Community Sch Corp

Dillsboro Elementary School

56.6%

South Dearborn Community Sch Corp

Manchester Elementary School

55.9%

South Dearborn Community Sch Corp

Moores Hill Elementary School

56.8%

South Dearborn Community Sch Corp

South Dearborn Middle School

38.8%

South Dearborn Community Sch Corp

Aurora Elementary School

45.5%

Lawrenceburg Community School Corp

Greendale Middle School

52.9%

Lawrenceburg Community School Corp

Central Elementary School

55.2%

Franklin County Community Sch Corp

Laurel School

45.1%

Franklin County Community Sch Corp

Franklin County Middle School

44.0%

Franklin County Community Sch Corp

Brookville Elementary School

57.3%

Franklin County Community Sch Corp

Mount Carmel School

60.3%

Rising Sun-Ohio Co Com

Ohio County Elementary School

48.6%

Rising Sun-Ohio Co Com

Ohio County Middle School

44.6%

South Ripley Com Sch Corp

South Ripley Junior High School

66.8%

South Ripley Com Sch Corp

South Ripley Elementary School

68.7%

Batesville Community School Corp

Batesville Middle School

69.9%

Batesville Community School Corp

Batesville Intermediate School

61.3%

Jac-Cen-Del Community Sch Corp

Jac-Cen-Del MS/HS

55.9%

Jac-Cen-Del Community Sch Corp

Jac-Cen-Del Elementary School

59.9%

Milan Community Schools

Milan Middle School

39.6%

Milan Community Schools

Milan Elementary School

41.2%

Milan Community Schools

Milan Intermediate School

43.8%

Switzerland County School Corp

Jefferson-Craig Elementary School

45.2%

Switzerland County School Corp

Switzerland Co Middle School

35.0%

Switzerland County School Corp

Switzerland Co Elementary School

38.8%

Archdiocese of Indianapolis

Saint Nicholas School

58.4%

Archdiocese of Indianapolis

Saint Mary School

50.8%

Archdiocese of Indianapolis

Saint Lawrence School

59.0%

Archdiocese of Indianapolis

Saint Michael School

76.6%

Archdiocese of Indianapolis

Saint Louis School

61.7%
Data source: Indiana Department of Education
10th Grade By High School
School

Both Math and ELA
Percent Pass

East Central High School

46.0%

South Dearborn High School

23.3%

Lawrenceburg High School

41.5%

Franklin County High School

22.5%

Rising Sun High School

24.1%

South Ripley High School

29.9%

Batesville High School

60.1%

Jac-Cen-Del High School

38.2%

Milan High School

46.9%

Switzerland County High School

18.6%

Oldenburg Academy

35.7%
Data source: Indiana Department of Education