Up for re-election this year, Democrat Joe Donnelly could side with Republicans in confirming Brett Kavanaugh.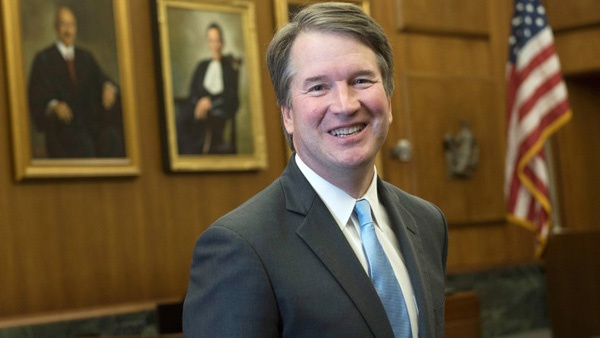 Brett Kavanaugh
(Undated) - Call it the spotlight. Call it crosshairs. Either way, Indiana U.S. Senator Joe Donnelly is again in it as a Senate confirmation of a new U.S. Supreme Court justice looms.
President Donald Trump on Monday announced federal appeals court judge Brett Kavanaugh as his nominee to replace retiring Justice Anthony Kennedy on the nation's highest court.
A Democrat in a state which voted overwhelmingly for Trump two years ago, Donnelly is up for re-election this year. He has not ruled out voting for Kavanaugh.
"As I have said, part of my job as Senator includes thoroughly considering judicial nominations, including to the Supreme Court. I will take the same approach as I have previously for a Supreme Court vacancy. Following the president's announcement, I will carefully review and consider the record and qualifications of Judge Brett Kavanaugh," Donnelly said in a statement.
The first-term senator was one of just three Democratic Senators who voted to confirm Trump's first Supreme Court selection, Neil Gorsuch, last year.
Donnelly declined an offer to attend last night's announcement at the White House.
Indeed, the pressure will be on Donnelly and other red state Democrats to perhaps buck their party's wishes and confirm Trump's nominee. According to Politico, the Judicial Crisis Network is planning to run ads targeting Donnelly, North Dakota Senate Heidi Heitkamp, and Senator Joe Manchin of West Virginia to vote for Trump's pick.
Donnelly's challenger in the November general election is pro-Trump Republican businessman and former state lawmaker Mike Braun. Braun said Monday that the president has chosen another outstanding justice in Kavanaugh.
"His credentials are impeccable – he has already served with distinction as an Appellate Judge on the prestigious Court of Appeals for the District of Columbia – and he will interpret the Constitution as written rather than legislate from the bench," Braun said.
"I am sure Senator Donnelly will eventually say that he will vote for him, because it is an election year. But I can immediately say without hesitation that I would support this nomination and I hope the Senate moves quickly to confirm the President's choice."
Indiana's other U.S. Senator, Republican Todd Young, did not immediately throw his support to Kavanaugh's confirmation Monday. Young said the nominee is a well-respected judge with a strong record of honoring the Constitution and upholding the rule of law.
"I look forward to conducting a thorough and objective review of Judge Kavanaugh's nomination over the coming weeks, and I am hopeful that my colleagues will give him the same courtesy," said Young.