The next time Indiana voters head to the ballot box, it will be for the general election on November 5.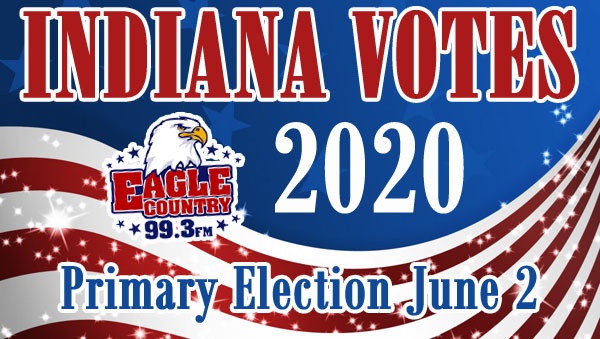 (Lawrenceburg, Ind.) – Primary Election Day has come and gone in Indiana.
Some registered voters made it out to the ballot box on Tuesday to cast an in-person ballot, while most voters statewide took advantage of submitting a mail-in ballot due to COVID-19 concerns.
Statewide voter turnout has yet to be announced, but numbers are expected to be low.
At the top of this year's primary election ballot were the Republican and Democratic candidates of U.S. President.
It comes as no surprise that GOP voters in the state favored incumbent U.S. President Donald Trump over his primary opponent Bill Weld. Trump resoundingly won the Indiana primary with 450,161 votes (92%) to Weld's 38,005 (8%).
Joe Biden got the check mark in Indiana, receiving 297,769 votes. Bernie Sanders, Pete Buttigieg and Elizabeth Warren were among the big names to receive votes in the Democratic primary despite ending their candidacy earlier this year.
For Biden, he picked up 82 delegates from Indiana increasing his total to 1,913. The former vice president needs 1,991 delegates to secure the Democratic nomination for president in the November General Election.
When Indiana voters head to the ballot box in November they will choose between incumbent Republican Governor Eric Holcomb and Democratic candidate Woody Myers. Both ran uncontested in Tuesday's primary.
Greg Pence, the brother of current vice president Mike Pence, won the Republican primary for U.S. House District 6. He will be opposed by Democrat Jeannine Lake in November.
State Representatives Cindy Ziemke (District 55), Randy Frye (District 67) and Randy Lyness (District 68) were uncontested, as was State Senator Jean Leising (District 42).
In Dearborn County, voter turnout was right around 12 percent. In the race for county council at-large, five candidates vied for three seats. Tim Doll, Allen Goodman and Glenn Wright received the most votes followed by Bill Ullrich and Michael Burgess. The margin between Wright and Ullrich was 73 votes.
Current county coroner Steve Callahan is set to retire this year. It appears that Cameron McCreary will fill the vacancy after winning the primary over Leslie Ballmer and Debbie Stevens.
The only other contested race in Dearborn County pitted Melissa Doke and Barb Kaffenberger-Scherzinger against one another for county treasurer. Kaffenberger-Scherzinger won the primary with 2,474 votes to Doke's 2,069.
Ripley County featured five contested races.
Andrew Decker, Katie Bailey and Kelly Vollet received the most votes for county council at-large.
Voters favored Chris Schmaltz over Tom Menchhofer, Barry Lauber and Robert Garcia for District 2 Commissioner. J. Kendall Hankins received nearly 48 percent of the vote in the race for District 3 Commissioner.
Mary Ann McCoy was the primary winner for county recorder, receiving 1,126 votes.
The closest race in the county was for country treasurer. Lisa Vestal defeated Cathy Volz by 17 votes, 1,027 to 1,010.
Voter turnout in Ripley County was at 12 percent.
Switzerland County had the best voter turnout in Eagle Country at 21 percent.
The Republican primary for county council at-large came down to the wire. Randy Leap received 595 votes compared to Andy Haskell's 558 and Lisa Fisher's 544. On the Democratic side, Rachel Bladen Schuler received more votes than Jason Scudder and M. Ellegood-Turner.
Grant Dean and Jerry Monjar won their respective races for District 1 Commissioner and District 2 Commissioner.
Switzerland County voters preferred Gayle Rayles (673 votes) over Rene Mathews Stewart (212 votes) for county treasurer. Brian McAllister earned 57 percent of votes, winning the race for county surveyor over Samuel Girod.
There was no contested race in Ohio County.
For full election results, visit our Indiana Votes page.
The next time Indiana voters head to the ballot box, it will be for the general election on November 5.