Brittany Ingle's three children were hit by a driver who did not stop as they were boarding their school bus in northern Indiana last October.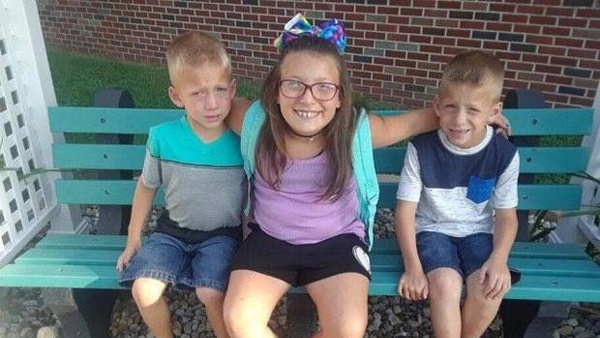 Alivia Stahl and brothers Xzavier and Mason Ingle were killed on October 30, 2018 when a driver did not stop for their school bus as they were attempting to board. Family provided photo.
(Indianapolis, Ind.) – Three of Brittany Ingle's children were killed by a driver who negated to stop for a school bus as it was picking up her children near Rochester, Indiana.
Nine-year-old Alivia Stahl and twin six-year-olds Xzavier and Mason Ingle were hit in the pre-dawn hours by a driver who said she did not realize she was approaching a stopped school bus. That driver has been charged with three counts of Reckless Homicide.
"Never in a million years would you ever think something like this could happen to you," Ingle told reporters at an Indiana Statehouse news conference on Tuesday.
"Immediately our story went nation-wide all over and with that and with all our pain, we wanted to figure out how we could save someone else's family from ever enduing the pain that we're going through. I can't even imagine what it would be like to lose one, let alone three. No mother or father should ever have to bury their child, innocent children trying to go to school."
Now, Ingle is fighting for new laws which could make school bus stops safer and allow harsher punishments for drivers who fail to stop for buses pickup up and dropping off children.
State Senator Randy Head (R-Logansport) has filed a bill which would increase the penalty from a Class A infraction to a Class C misdemeanor for a driver who fails to stop when a school bus arm is extended. Additionally, a driver who recklessly passes a bus when its stop arm is extended would be charged with a Class A misdemeanor instead of a Class B misdemeanor, but the charge would be upped to a level 6 felony if a child is injured in the illegal pass.
In addition to the higher fines and potential jail time, the legislation would allow judges to suspend driving privileges for first-time offender for 90 days, or one year for repeat offenses.
"Our community has suffered great tragedy recently, as four children lost their lives in accidents involving school buses," Head said. "No family should ever have to experience a loss of this kind, and I am hopeful this legislation, if passed, would help prevent similar accidents from occurring by encouraging drivers to slow down, follow the rules of the road and keep the safety of our children in mind."
Under the bill, school buses would not be allowed to pick up or drop off students at a location on a U.S. or state highway unless no alternative is available. If a highway drop off is unavoidable, a bus driver must make it by stopping as close to the right-hand curb as possible.
Head's legislation would also require each school corporation or school providing student transportation to annually review their school bus routes and safety policies starting this year.
The legislation, Senate Bill 2, has been assigned to the Senate Judiciary Committee.