A federal mandate is expected to impact over 80 million workers in private sector businesses with over 100 employees.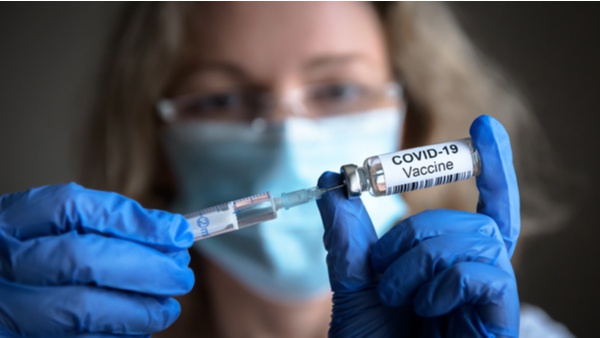 Shutterstock photo.
(INDIANAPOLIS) – Governor Eric Holcomb believes the COVID-19 vaccine is the number one tool to protect against COVID-19, but he disagrees with President Biden's announcement to mandate the vaccine for employers with more than 100 staff members.
This week, President Biden signed an Executive Order to require all federal executive branch workers to be vaccinated. The order extends to employees of contractors that do business with the federal government.
As part of this effort, the Department of Defense, the Department of Veterans Affairs, the Indian Health Service, and the National Institute of Health will complete implementation of their previously announced vaccination requirements that cover 2.5 million people.
President Biden has also announced that the Department of Labor's Occupational Safety and Health Administration (OSHA) is developing a rule that will require all employers with 100 or more employees to ensure their workforce is fully vaccinated or require any workers who remain unvaccinated to produce a negative test result on at least a weekly basis before coming to work.
The requirement is expected to impact over 80 million workers in private sector businesses with over 100 employees.
"We have the tools to combat COVID-19. If we can come together as a country and use them, we can reduce the number of unvaccinated Americans, decrease hospitalizations and deaths, and allow our children to go to school safely," said President Biden.
Governor Holcomb released the following statement:
"I believe the vaccine is the number one tool that will protect us and our loved ones against COVID-19. It is the tool that will end the pandemic. However, I strongly believe it's not the state or federal government's role to issue a vaccine mandate upon citizens and private businesses. This is the approach our administration has taken all along. The announcement from President Biden is a bridge too far. Private businesses should be able to look at their own mission, their staff and their goals and make the decision best for them that will keep their doors open.
I believe it is fundamentally a citizen's right to choose whether or not to get the vaccine. While I wish everyone would get the vaccine, we are a country built on this exact type of freedom."
Senator Tim Lanane released the following statement regarding Governor Holcomb's opposition to this mandate:
"Governor Holcomb's opposition to mandating the lifesaving COVID-19 vaccine is extremely irresponsible. President Biden correctly recognizes that the science and the data tell us that the unvaccinated population is allowing the virus to spread and mutate at an unacceptable rate. It is well established that vaccines can be required in the United States, as every student attending a public school knows. In fact, the 1905 Supreme Court Ruling in Jacobson v. Massachusetts established that requiring vaccines to protect public health is constitutional, and this precedent was just referenced again by the Supreme Court in the recent case over Indiana University's vaccine mandate. Our state has allowed healthcare employers to mandate employee vaccines for years, to no public outcry.
"Over 100 years of Supreme Court precedent tells us that President Biden's announcement today is not an encroachment on freedom, and it is not unconstitutional. Unfortunately, Governor Holcomb is choosing to put the interests of the far-right anti-science wing of his party above the health of Hoosiers, especially children under 12 who cannot yet be vaccinated. Hoosiers deserve better, and they deserve real leadership."