Hoosier farms planted 1.59 million acres of living cover this year.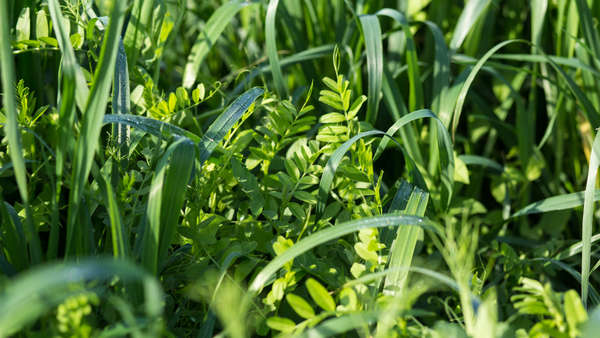 Shutterstock photo.
(INDIANAPOLIS) – Indiana farmers have set a conservation record.
According to a recent Indiana Conservation Partnership survey, Hoosier farmers planted 1.59 million acres of living cover this year.
The number is the largest amount ever recorded by an Indiana Conservation Partnership survey.
Except for corn and soybeans, cover crops are planted on more acres than any other commodity crop in the state.
Local results can be seen below:
Living Cover After All Crops (acres)
Dearborn County – 7,630
Franklin County – 14,697
Ripley County – 12,037
Switzerland County – 7,001
Living Cover After All Crops (percentage)
Ohio County – 61
Overwintering living covers, such as cover crops and small grains, are known for their environmental benefits. Cover crops help increase organic matter in the soil and improve over soil health by adding living roots to the soil for more months of the year.
Other benefits include improved water infiltration into the soil.
"I want to congratulate Hoosier farmers for continuing to be a leader in conservation," said Lt. Gov. Suzanne Crouch, who also serves as Indiana Secretary of Agriculture and Rural Development. "By increasing our cover crop practices, we are keeping Indiana waterways and soil healthier for future planting seasons and the next generation of farmers."
As a result of the cover crops planted last year, an estimated 1.6 million tons of sediment was prevented from entering Indiana's waterways, in addition to preventing 4.1 million pounds of nitrogen and over two million pounds of phosphorus from entering waterways.
Indiana State Department of Agriculture Director Bruce Kettler is excited to see what the future holds for soil conservation in Indiana.
"Soil conservation remains strong in Indiana and this recent survey proves that Hoosier farmers go above and beyond in their best management practices to increase soil heath," said Kettler. "I am optimistic that this trend of increasing cover crop acres will continue for years to come."
For more information, visit New State Record Set for Cover Crops - State of Indiana.