Child Passenger Safety Week is Sept. 17-23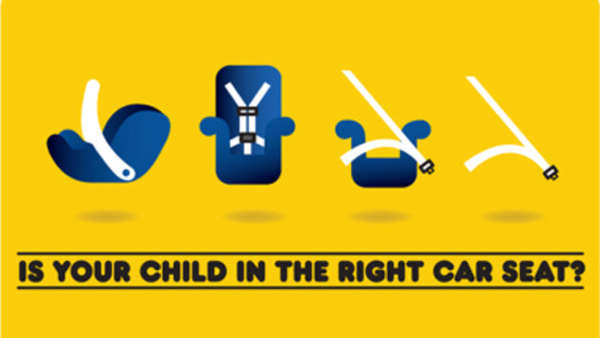 Photo provided.
INDIANAPOLIS - Car crashes are a leading cause of death for children across the U.S. According to national data, an average of two kids under 13 were killed every day in collisions in 2021. Of the total fatalities that occurred, 36 percent were unrestrained. In Indiana, 24 children lost their lives in passenger vehicle crashes that year.
Many times, injuries, and deaths can be prevented with the proper use of car seats, boosters, and seat belts. When used and installed correctly, a car seat can reduce the risk of fatal injury by 71 percent for infants and by 54 percent for toddlers.
However, statistics show that nearly half (46%) of car seats are misused – leaving kids more vulnerable in a crash. Common issues are children being in the wrong type of car seat for their age and size, and car seats being installed improperly — both of which leave children vulnerable to injury in a crash.
To address this, the Indiana Criminal Justice Institute (ICJI) is encouraging parents and caregivers to take time during Child Passenger Safety Week (Sept. 17-23) to make sure that their child is properly secure in an appropriate car or booster seat.
"Parents want the best for their children, but they may not know how to keep them safe in the car," said Devon McDonald, ICJI Executive Director. "We want to help caregivers make sure their children are as safe as possible."
With the amount of car seat choices on the market today, finding the right one can be challenging. Not all car seats fit in all vehicles, and there are important factors to take into consideration, such as making sure the seat is age- and size-appropriate.
Across the statethe state, there are more than 1,200 certified Child Passenger Safety Technicians who help educate parents and caregivers about the right seats for their kids and help them learn how to install the seats correctly. These individuals are specially trained in car seat installation, best practices and education, and offer support and guidance to motorists with children, free of charge. They can also register car seats and check for recalls.
Safety checks are available year-round on an appointment-only basis and typically take 20-30 minutes. Those visits can be conducted virtually or at one of Indiana's fitting stations, which can be found by visiting: on.in.gov/SafeKids.
"We all know how important it is to keep our cars in good working order. We check the tire pressure, change the oil, and get regular tune-ups. But when it comes to our children's car seats, many of us neglect to do the same. We assume that the seat is installed correctly, but that's not always the case," said Jim Bryan, ICJI Traffic Safety Division Director. "Don't wait for a crash to happen to find out if your child's car seat is installed correctly. Let a professional check it for you so you can have peace of mind knowing that your child is safe."
Anyone who drives child passengers can check out the National Highway Traffic Safety Administration to check out its free, online resources at www.nhtsa.gov/TheRightSeat.
Car Seat Types: Determine whether your child fits best in a rear-facing car seat, forward-facing car seat, booster seat, or seat belt.
Car Seat Recommendations: Review NHTSA's recommendations for the best car seat for your child's age and size.
Find and Compare: Find and compare car seats with NHTSA's handy car seat finder, which also searches specific brands.
Download NHTSA's SaferCar app and save your vehicle and car seat info in your "virtual garage." If any of your saved equipment is included in a safety recall, the app will send you a notification.
For information about local Child Passenger Safety Week events, contact one of Indiana's Child Passenger Safety Specialists.