Bosma will be leaving office after the 2020 Legislative Session.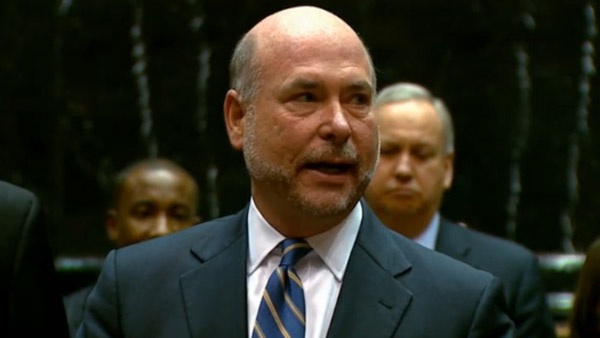 (Indianapolis, Ind.) – Indiana House Speaker Brian Bosma has announced his retirement.
Bosma, the longest-serving House Speaker in state history, made the announcement during Organization Day at the Indiana Statehouse on Tuesday.
"It's been the honor of my life to serve Hoosiers and help make Indiana all she can be. Coming into my 34th session as a legislator, it's humbling to reflect on just how far our state has come – especially in the last 15 years. From the bottom of nearly every economic and business list to the best in the Midwest and among the top states in the nation. Whether it's our welcoming business climate, record job creation or low taxes, Indiana's economic engine is paying dividends for Hoosiers through low unemployment and low taxes.
The 62-year-old has served as House Speaker since 2010. He also served in the same role from 2004 to 2006.
During that time, there were many notable policy accomplishments including passing a historic 20-year, fully funded roads plan, cutting or eliminating 14 taxes in the last 15 years, passing property tax reform and right-to-work, and empowering low-income families through implementing and expanding school choice.
Bosma will leave office following the completion of the 2020 legislative session. It will be his 34th session as a lawmaker.
Following the 2020 legislative session, Bosma is expected to take over as national chairman of the Republican Legislative Campaign Committee.
House Republican lawmakers are expected to select a speaker-elect in the coming weeks, who will work closely with the speaker during the short session. Bosma said his hope is for the new speaker to be sworn in by the full House as session closes. The 2020 legislative session will convene on January 6 and conclude by March 14.
Governor Eric Holcomb released the following statement after learning of Bosma's retirement:
"So many know Brian Bosma for his contributions of unparalleled consequence at a time when our state needed strength in the Speaker's Chair. Others know him for his incredible capacity to give to causes serving those most in need. Since the turn of this century, I've come to know Brian as a trusted friend, and for that reason alone, he'll remain on my speed dial. Speaker Bosma's the type of state leader you don't replace, you only follow. I'm wishing Brian and Cheryl an equally personally fulfilling next chapter in life, once this one comes to a close."