The Legacy of Hillforest continues as the museum re-opens for its 65thth touring season Thursday, April 1.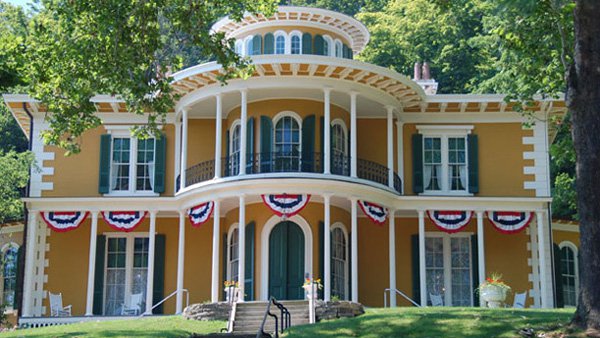 Hillforest Victorian House Museum. File photo.
(Aurora, Ind.) - On Friday, January 27, 1956, a public announcement was made that the Thomas Gaff residence at 213 Fifth Street, Aurora, was being purchased and would be preserved. Completed in 1855, "Forest Hill" was built by local entrepreneur Thomas Gaff for his family. Members of the Gaff family resided at the home until 1926. The last Gaff living there, Agnes Gaff Howe, daughter of Thomas and Sarah Gaff, sold the home to Will and Birdie Mae Stark who resided there twenty-two years. The home was purchased in 1948 by the Veterans of Foreign Wars, who used the home as their post club house. In 1956, Esther Wilson Roache, a local bank executive, is credited with enlisting the support of nine other local citizens of influence to purchase the century-old home, which was in poor condition, to save the structure. Ultimately the Hillforest Historical Foundation was formed in 1956 to oversee the restoration and operation of Hillforest Museum. The purchase price of $15,750 included the entire ten-acre plot once owned by Thomas and Sarah Gaff. Esther, along with the other founders and volunteers, worked tirelessly and methodically to restore the home to its original beauty, including accurately appointing the rooms with period furnishings and artifacts, many belonging to the Gaff family. The museum room restored in 2020 features Gaff business memorabilia and family photos and artifacts.
So many people have been involved with Hillforest in its 65 years serving as a museum. Board members, staff, and volunteers are too numerous to count, but Hillforest would not be what it is today without their dedication and support. "The Thomas Gaff Home" was listed on the National Register of Historic Places in 1971, and designated a National Historic Landmark in 1992. In the last 65 years Hillforest has been visited by hundreds of thousands of visitors and today is one of Dearborn County's top tourist attractions.
The Legacy of Hillforest continues as the museum re-opens for its 65thth touring season Thursday, April 1. Hillforest offers guided tours of the Victorian home Tuesday through Friday, 11:00 a.m. - 3:00 p.m., and Saturday & Sunday, 1:00 – 5:00 p.m. Admission charged: $10 ages 14 and up, $4 for students (ages 7-13), children 6 and under are free. Discount Thursdays offers 20 percent off for seniors and Veterans. Group tours, luncheons, and teas can be arranged with a prior reservation.Hillforest Museum is operating with CDC guidelines in place.
The City of Aurora is generously sponsoring Hillforest's 2021 events, the first of which is the American Girl day camps scheduled June 14, 15, and 16. Other events include a Trivia Night, Designer Bag Bingo, and Victorian holiday teas. To view a complete list of Hillforest's 2021 events visit www.hillforest.org. Or call the Hillforest office at 812-926-0087 to request a printed calendar of events.