Nurse Practitioner Sheri Roberts to have full-time practice.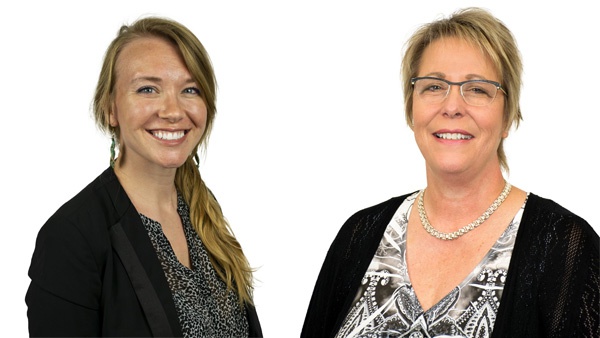 Melissa Mefford, M.D., Family Medicine & Sheri Roberts, NP-C. Photos by Highpoint Health.
(Vevay, Ind.) - Highpoint Health and Highpoint Health Physician Partners are welcoming Family Medicine Physician, Dr. Melissa Mefford, back home to Vevay. Dr. Mefford will begin seeing patients on Monday, October 28, at the new Highpoint Health Physician Partners' office located at 1035 W. Main Street, Suite 1, Vevay. There, she will join now full time Nurse Practitioner Sheri Roberts in caring for patients.
"I have always had a dream to return to my hometown of Vevay, Indiana, and now I finally have the opportunity to do it," explained Dr. Mefford. "I am so excited to practice alongside Sheri Roberts, NP-C, and look forward to taking care of my past teachers, coaches, neighbors, schoolmates and all the friends and family in between.
"In addition to Switzerland County, I am eager to serve all the surrounding counties including Ohio, Jefferson, Ripley, Gallatin and Carroll Counties," she continued. "My goal is to help each and every one of my patients take a step closer to better health including physical, emotional, mental, spiritual and social health. I am looking forward to growing personally and professionally with the people who helped me become who I am today. It is time to give back and say, 'thank you!' It feels good to be home!"
A graduate of Switzerland County High School, Dr. Mefford received her undergraduate degree from Franklin College before completing her Master of Science Degree in Molecular Biology from Indiana University-Purdue University Indianapolis. She then earned her Medical Degree from the Indiana University School of Medicine. Most recently, Dr. Mefford completed a three-year Family Medicine residency through the University of Cincinnati at The Christ Hospital.
"Highpoint Health and Highpoint Health Physician Partners are very pleased to welcome Dr. Mefford home to practice medicine," remarked Michael W. Schwebler, Highpoint Health President and CEO. "Dr. Mefford's practice is a key component as we work with the community to have a greater healthcare presence in Switzerland County. In addition to Dr. Mefford, Nurse Practitioner Sheri Roberts has gone from seeing patients part time to full time in the new location.
"This fall, Highpoint Health Physical Therapy and Sports Medicine also opened a facility in the adjacent space," he noted. "Our Home Health and Hospice Department has had a long history of serving the residents of Switzerland and Ohio Counties. Together, our Highpoint Health providers and staff are looking forward to becoming more engaged with the community. To that end, Highpoint Health will be hosting a community open house later this year so the public can meet our providers and tour the facility."
Dr. Mefford will begin seeing patients on Monday, October 28, at the Highpoint Health Physician Partners Building at 1035 W. Main Street, Suite 1, in Vevay. She is currently welcoming patients, newborns through geriatrics, to her practice. Appointments with Dr. Mefford will be available Monday through Wednesday from 7:45 a.m. to 4:15 p.m., and on Friday from 7:45 a.m. to 4:00 p.m. Nurse Practitioner Sheri Roberts is now seeing patients Monday through Thursday from 8:00 a.m. until 4:15 p.m. For more information or to schedule an appointment with either Dr. Mefford or Ms. Roberts, please call their office at 812/427-0233. Physical therapy appointments may be made by calling the Vevay office at 812/427-0293