The fire broke out Sunday on South Branch.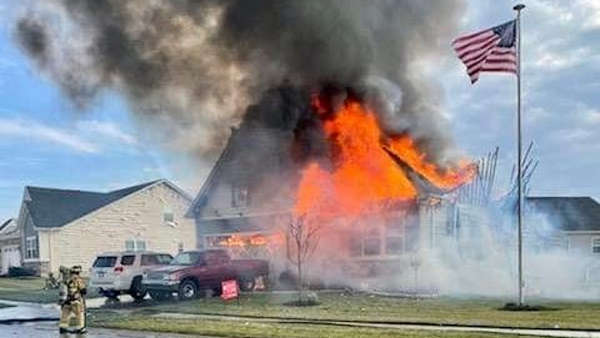 Photo by Harrison Fire Department.
(Harrison, Oh.) - A quick response stopped a house fire from spreading to other nearby homes.
Harrison Fire responded to a structure fire on South Branch on Sunday.
Upon arriving at the scene, firefighters encountered heavy fire conditions with flames venting through the roof and pushing out the sides of the home.
According to Harrison Fire, the fire had complete control of the attic space of a lightweight structure that is notoriously deadly for firefighters.
Despite the tough conditions, firefighters were able to keep the flames from spreading to nearby homes - saving three homes in the process.
However, the home where the fire started suffered severe damage.
No residents were home at the time of the fire. A pet was found alive and treated at the scene.
A cause remains under investigation.
Crosby, Colerain, Whitewater Township, Miami Township and Greendale fire departments assisted at the scene.