The video scoreboard is expected to be the largest in Cincinnati.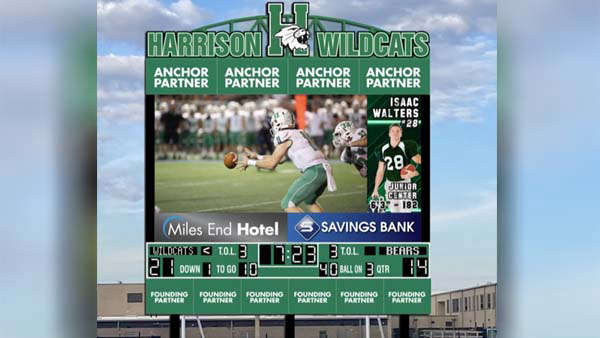 Photo by Harrison Athletics.
(Harrison, Oh.) – The Harrison Athletic Boosters are not done improving Wildcat Stadium.
On Thursday, the Southwest Local School District announced the Boosters plan to install a new state-of-the-art video scoreboard to accompany the multi-use synthetic turf field and full-size practice field that were installed in 2020.
A former Harrison High School varsity football player, Pat Noyes, contributed in a big way to make the scoreboard possible.
Noyes made the largest private donation in school district history. Because of that donation and the generosity of other alumni, Harrison will soon have what is expected to be the largest scoreboard in Cincinnati, at 35 feet tall and 32 feet wide.
In addition, the video display will use the same technology used at Paul Brown Stadium.
"I wanted to be a part of all the good things that are taking place with the athletic facilities, particularly the stadium renovation," Noyes continues. "Football is near and dear to my heart. Without it, I would not have been able to attend Rose-Hulman and get the education that I did. We are very blessed and more than happy to be a part of the great work that is ongoing at Harrison High".
For more information, visit Athletic Boosters Secure New Scoreboard for Wildcat Stadium, No Tax Dollars Used (southwestschools.org).
#THINKBIGGEST 3/2/22!🏟😜😤🧐💪🏻@Daktronics @HarrisonWildcat @swocsports @SWOSportsDaily @MikeDyer @hjswildcat @mlaughman @EnquirerShelby @ENQSports @OHADNewsHS @ohioscheduler @tsfootball @_STDUB @HDLNS @CBoxSports @rmaloneyeditor @InGameSports @mercy_health @SLSDSuper @Swoada1 pic.twitter.com/jTzpOQf6OC

— Harrison Wildcats AD (@wildcatsofhhs) March 2, 2022