This year, Great Parks collected over 10,000 more pounds of lights than the year prior.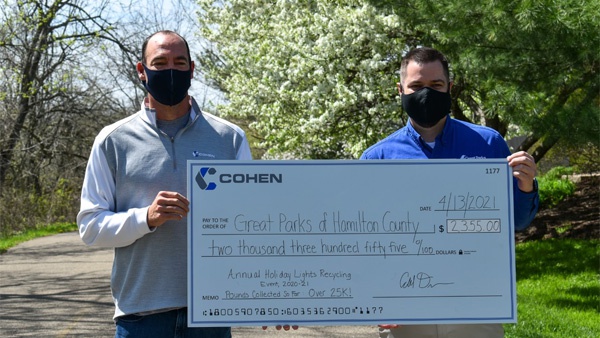 Cohen Vice President Adam Dumes presents Great Parks CFO Andy Collins with donation check. Photo provided.
(Hamilton County, Oh.) - The Holiday Lights Recycling program continued to have a big local sustainability impact in its seventh year at Great Parks. Thanks to a long-standing partnership with Cohen Recycling, the program has redirected thousands of pounds of lights from the landfill in order for the materials to be refined into new products.
Drop off locations were available from November 1, 2020, through February 1, 2021, at six park visitor centers. This year, 15,700 pounds of lights were collected at Great Parks, surpassing last year's total by 4,200 pounds!
"People in our region anticipate this program returning every year. They are mindful about salvaging unwanted lights, knowing they can dispose of them sustainably through Great Parks," said Great Parks CEO Todd Palmeter. "The continued expansion of this program along with the increased amount of lights recycled by residents reinforces the value of strong community partnerships achieving great results."
Cohen is donating $2,355 to Great Parks to support ongoing conservation efforts.
"Recycling and protecting the great outdoors go hand in hand," said Cohen Director of Marketing, Marisa Head. "Recovering copper from recycled lights reduces the need for newly-mined copper and the environmental damage that results from it. We are grateful to our local partners like Great Parks for making recycling more accessible to the community and helping us educate."
To date, over 42,300 pounds of lights have been collected over the course of the partnership program. This year's total comes close to surpassing all six previous years combined.
For more information about Cohen, visit https://www.cohenusa.com/.