Multiple agencies responded to a house fire on State Road 62 on Saturday.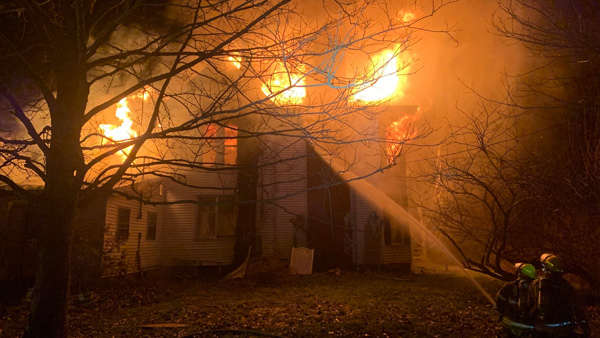 Photo by Friendship Volunteer Fire Department.
(Friendship, Ind.) – Multiple agencies battled tough conditions at a house fire on Saturday.
A home in the 5000 block of State Road 62 went up in flames around 6:40 p.m.
Upon arriving at the scene, firefighters found heavy smoke showing from the front of the structure with heavy involvement.
An exterior attack was initiated and transitioned to an interior push by Friendship Volunteer Fire Department.
However, due to the age of the structure, numerous remodels and hidden dead spaces, firefighters were forced outside of the home to continue fighting the fire. Limited access to water supply and freezing temperatures also challenged firefighters.
The home ended up as a total loss. A cause remains under investigation.
No injuries were reported.
Versailles Fire, Dillsboro Fire, Osgood Fire, Ripley County EMS, REMC, and Wood Excavating assisted at the scene.