Despite being defeated in his 2015 re-election bid, former mayor Dennis Carr wants four more years.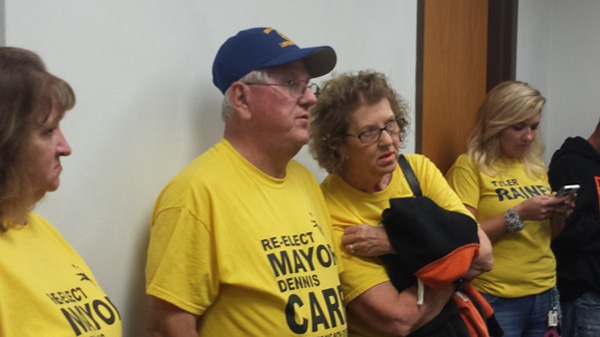 Dennis Carr (center) says he will run for the Democratic nomination for Lawrenceburg mayor in the May 2019 primary election. File photo.
(Lawrenceburg, Ind.) - One of Lawrenceburg's former mayors wants to make a return to the office.
Dennis Carr was mayor from 2012 through 2015. He has filed to run for the Democratic nomination in the May primary.
Carr told Eagle Country 99.3 on Tuesday he wants to see the town go a different direction and away from what he calls a "good ol' boys club."
"There is not a lot I don't know about this city," said Carr. "I want to put that knowledge to work and make it a better place to live."
The former mayor, councilman, and fire chief would like to complete projects he did not see finished in his first term. Carr said he believes the Southeastern Indiana Regional Port Authority, which he helped establish as mayor, has become stagnant and needs to be pushed more. The city also needs to focus on workforce development.
He contends that the current administration's public-private project to build an apartment building on the Ohio River levee downtown should instead be developed as condominiums.
"There are already enough apartments in the city," Carr argued.
Since he was defeated by current mayor Kelly Mollaun in the 2015 election, Carr has been busy running his own small business. He also serves on the board of the Dearborn Adult Center.
Another candidate has also filed for the Democratic nomination for Lawrenceburg Mayor. Current city council member Aaron Cook will compete against Carr in the May 7th primary election.
Mollaun is running for re-election this year. He will be challenged in the May GOP primary against former councilman Mike Lawrence and businessman Steve Linkmeyer.
RELATED STORIES:
So Far, Five Have Entered Lawrenceburg Mayoral Primaries
Mayor Mollaun Announces He Will Run For Re-Election