The suspect may have stolen a car in Crittenden just before holding up a Shell station on Turfway Road in Florence on Friday morning.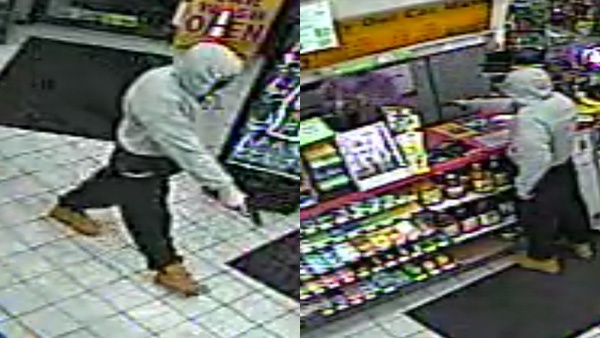 Photos provided.
(Florence, Ky.) – A robber brandished a handgun as he held up a Florence gas station Friday morning.
Florence Police say the Shell Gas Station at 7124 Turfway Road was held up at around 6:25 a.m. December 7. A man entered the business, pointed a handgun at the clerk, and demanded all of the cash from the register.
The suspect is described as a white male, approximately 6'0" tall with a medium build, wearing a gray hoodie, dark pants and tan work boots. A bandana was covering his face.
The male fled in a newer model, silver four-door Ford passenger car with a black bra covering the front bumper.
Investigators say a similar vehicle was reported stolen from the EZ Stop Gas Station in Crittenden, Kentucky earlier Friday morning. That vehicle was a silver Ford Focus four-door with Kentucky license plate 947TDC.
Anyone with information is asked to call the Florence Police Department at (859) 647-5420.