The federal grant will fund the creation of cleanup plans for former sites of factories and petroleum storage along the Ohio River and Tanners Creek.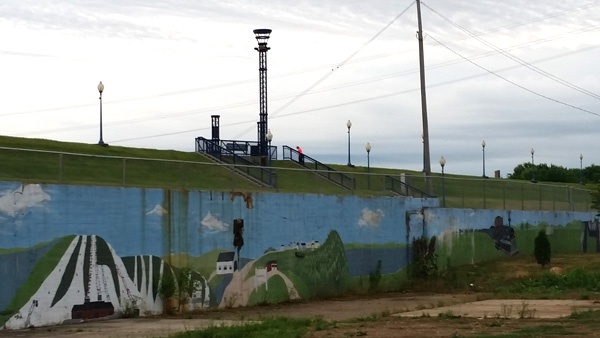 The former Lotus property on West High Street along the Ohio River levee in Lawrenceburg is among the sites to be studied using a U.S. EPA brownfield grant to the City of Lawrenceburg. File photo.
(Lawrenceburg, Ind.) - A federal grant will fund the study and cleanup plans of potential environmentally hazardous sites in Lawrenceburg.
The U.S. Environmental Protection Agency on June 5 announced that the City of Lawrenceburg would receive $600,000 from its Multipurpose, Assessment, and Cleanup Grant Programs. The city is among 149 locations across the country selected to receive brownfield grants this year.
Brownfields are defunct industrial and commercial areas that often contain hazardous materials. The sites can be cleaned and redeveloped, often at large expense, to boost tax revenue and property values.
"These grants fulfill several of President Trump's top priorities simultaneously: helping communities in need transform contaminated sites into community assets that not only create jobs and jumpstart economic development but also improve public health and the environment," said EPA Administrator Andrew Wheeler in a news release. "We are targeting these funds to areas that need them the most. Approximately 40 percent of the selected recipients are receiving Brownfields grants for the first time, which means we are reaching areas that may previously been neglected, and 108 of the selected communities have identified sites or targeted areas for redevelopment that fall within Opportunity Zones."
Lawrenceburg's brownfield grant money will be put to use in a designated area of the city known as the Lawrenceburg/Aurora Downtown Riverway District. According to a fact sheet from the EPA, that area along the Ohio River and Tanners Creek once populated by factories and petroleum storage facilities includes the former Lotus Industrial Property, the Maple Street Property, the former Bulk Fuel Terminal and Industrial site, and the former Cook Pump Company.
Community-wide hazardous substances grant funds will be used to conduct 18 Phase I and 12 Phase II environmental site assessments. Ten cleanup plans will be prepared for various sites.
Petroleum grant funds will help conduct eight Phase I and six Phase II environmental site assessments with four cleanup plans.
This is Lawrenceburg's first award from the EPA's Brownfield program. The cities of Aurora and Greendale are coalition partners with Lawrenceburg.
"The City of Lawrenceburg and our coalition partners, the City of Greendale and Aurora, are pleased to partner with the EPA to advance our brownfield revitalization efforts," said Lawrenceburg Mayor Kelly Mollaun. "This grant will allow us to assess the environmental conditions at numerous underutilized, vacant, and / or blighted sites throughout our communities which is the first step in repurposing these sites, expanding the tax base and improving the health and welfare of our residents."
At least six public meetings will be held on the local projects. No dates have been announced.
According to the EPA, "there are estimated to be more than 450,000 brownfields in the U.S. As of May 2019, under the EPA Brownfields Program 30,153 properties have been assessed, and 86,131 acres of idle land have been made ready for productive use. In addition, communities have been able to use Brownfields grants to leverage 150,120 jobs and more than $28 billion of public and private funding."