The crash took place Sunday evening at the intersection of SR 48 and SR 129 in Ripley County.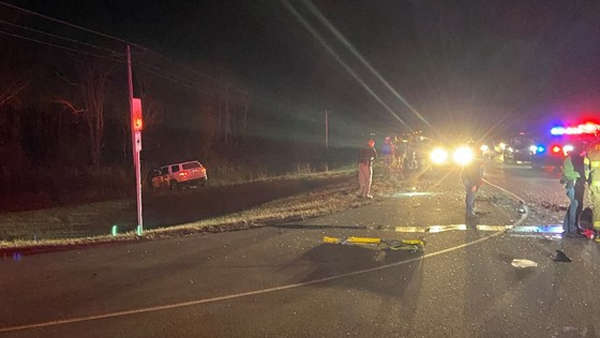 Photo by Indiana State Police.
(Ripley County, Ind.) – Charges have been filed against a driver that allegedly caused a serious crash.
Indiana State Police responded to the crash on Sunday evening at the intersection of State Road 48 and State Road 129.
The initial investigation shows that Justin Palmer, 25, of Milan, was traveling eastbound on SR 48 and entered SR 129 into the path of a southbound vehicle, driven by James Ratliff, 36, of Milan.
Ratliff's vehicle collided with the driver's side of Palmer's vehicle in the intersection. The impact caused Ratliff's vehicle to overturn.
Both drivers were transported to Margaret Mary Health with non-life threatening injuries. Megan Hountz, a passenger in Ratliff's vehicle, became entrapped and was airlifted to UC Medical Center for treatment of serious injury. Four juveniles in Ratliff's vehicle were transported to MMH with unknown injuries.
According to ISP, Palmer showed signs of being intoxicated during the crash investigation. He was arrested on charges of Operating While Being a Habitual Traffic Violator, Operating While Intoxicated Causing Serious Bodily Injury, and Operating While Intoxicated with a Prior Conviction.
Palmer has been incarcerated pending an initial appearance in court.
The crash remains under investigation.