Indiana State Representative Randy Frye, Jared Teaney, and Dr. Sue Ellspermann hosted a press conference to give details on the new scholarship for active volunteer firefighters or EMS.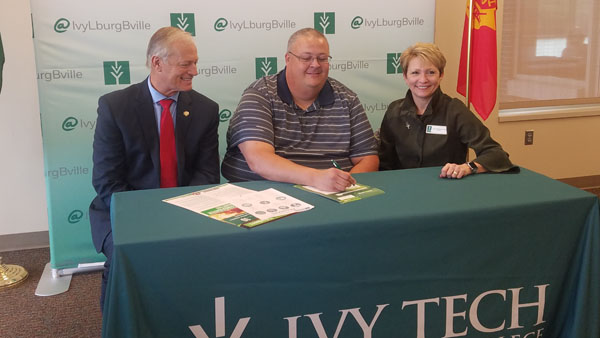 Pictured left to right are: Indiana State Representative Randy Frye (R-Greensburg), Jared Teaney (Dillsboro volunteer firefighter who plans to enroll using the scholarship) and Dr. Sue Ellspermann, President of Ivy Tech Community College
(Lawrenceburg, Ind.) - The press conference to announce the new Indiana Volunteer Firefighter's Association and Ivy Tech Community College statewide scholarship was held yesterday at the Ivy Tech Lawrenceburg campus.
This scholarship gives volunteer first responders across Indiana the chance to earn a two-year degree, tuition free.
An idea formed by State Rep. Frye turned into an active program that will encourage recruitment and retention of volunteers, especially in the rural Indiana areas, where we are seeing the most shortage.
Frye introduced HB 1064 to create an Ivy Tech Scholarship Fund, to provide the funds to these first responders attending program at Ivy Tech. Although the bill passed the House, it was not heard in the Senate.
Ivy Tech committed $250,000 for two years to provide tuition and fees for volunteer first responders to attend academic programs. However, this does exclude Flight Aviation and General Studies.
"Volunteer firefighters and EMS personnel are critical to keeping us safe," Frye said. "Unfortunately, many of our rural communities are seeing a decline in the number of people stepping into these roles. This scholarship will help attract new volunteers who will reap the rewards of this fulfilling service while furthering their education."
Eligibility is offered to a volunteer first responder is enrolled as a degree seeking student, and holds good standing with a volunteer fire department. To remain eligible, candidates must be future or current Ivy Tech students and maintain satisfactory academic progress.