The Town was highlighted during an Economic Development Showcase last Friday.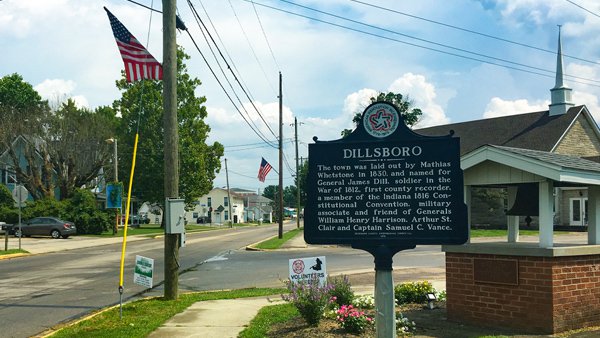 File photo.
(Dillsboro, Ind.) – Dillsboro is full of opportunities.
The charming Dearborn County town is home to approximately 1,500 residents, green spaces, trails, parks, library, arts & culture center and more.
An ambitious Gateway Corridor Master Plan would add allure to the small town and enhance the quality of life for its residents. The opening paragraph of the Master Plan reads:
"Since U.S. Highway 50 was relocated from North Street in downtown to the bypass around town in its current location in the late 1960's, the Town of Dillsboro has been challenged with a lack of visibility along U.S. 50. This lack of visibility and connections from the town to the highway have meant that most travelers along U.S. 50 pass by the town without knowing it's there. The Town has recognized the need to create a gateway corridor that can increase awareness for the town, support the downtown through increased visitors, as well as, create opportunities for future development along U.S. 50 through frontage roads accessed through the downtown."
Efforts were ramped up in 2019 to make such improvements, including future gateway treatments, increased lighting, bicycle and pedestrian crossing, and utility crossing locations for the corridor. The Town has also proposed intersection improvements for the intersections of Short Street/Industrial Circle and Front Street/Beatty Road and U.S. 50.
Additionally, there is plenty of property that is ready to be developed in Dillsboro to attract visitors, business, and new residents to town.
Last Friday, the town officials welcomed a small crowd for their Economic Development Showcase. The presentation feature a 12-minute video highlighting potential developments in Dillsboro.
Serenity Pines is among the biggest developments in the work. Located off Bank Street is 28.65 acres of land to be used for up to 41 market value homes . Lots are available with plenty of green spaces, trees, and a view of the lake, which will feature a park like atmosphere and walking trail. The development will also feature wide streets with sidewalks and lighting.
The Deaton property is also ready to develop three to five bigger residential developments with approximately 50 acres to work with.
Another huge development possibility in Dillsboro is the Wagner Property. Set on 109 acres, the property is ready to be developed into glamping paradise with direct access to U.S. 50 and to all utilities needed. Environmental Phase I has been completed along with a recent survey and topography. Plans have also been approved by KOA for a resort.
The Dillsboro Inn is another welcome addition. It is a four bedroom, three and a half bath home built in the 1880's. It will serve as an Air BnB and is expected to be completed sometime in 2021.
Other properties ready to be developed include:
Annbusher Property – 13,500-square-foot steel and brick structure on 3.69 acres. Well-maintained industrial building. Building was designed with expansion in mind.
Village Pro Hardware – Owners will lease or sell.
Shoe Shop – 2,260-square-feet. Town owned property is available for cost of interior renovation only. Contact Economic Development Director.
Caldwell Property – The former Grizzly's Pizzeria spot is a commercial space offered by owner, complete with seating and equipment.
The Town of Dillsboro also released plans to improve utilities. Currently, the Town of Dillsboro serves 804 customers. By 2040, that number is expected to grow to 1,010 customers, causing daily water usage to rise from 135,000 gallons per day to 175,000 gallons per day.
The current water storage tank volume is 275,000 gallons, which meets growth needs.
However, the Town of Dillsboro is planning some near-term projects to help upgrade the utility infrastructure, including:
Tank painting
New 10" water transmission main from Aurora to Dillsboro
State Road 262 water main replacement
New meters and Scada
Regional service investigation
Proactive planning and project funding efforts are underway.
For more information on exciting developments in Dillsboro, visit Community Profile | Economic Development (dillsboro.in).