Ryan Brandt resigned on Friday, but he will still serve the community as a school resource officer.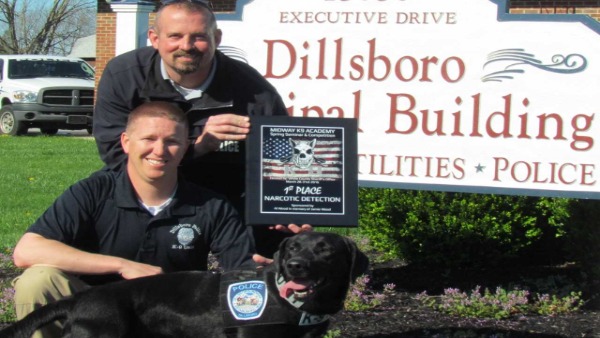 Ryan Brandt (back row) and Josh Cady with K-9 Officer Chevy. Photo provided.
(Dillsboro, Ind.) - There is a changing of the guard within the Dillsboro Police Department.
Police Chief Ryan Brandt resigned his position of Friday after nearly 20 years on the police force.
Brandt started on the Dillsboro Police Force in 1999 as a reserve officer. He then became Dillsboro's first full-time police officer in March 2001 and Police Chief in January 2006.
Now, Brandt is set to become the new Resource Officer at his alma mater South Dearborn High School.
"I've grown personally and professionally during my tenure in Dillsboro, so I believe it is time to take my skills and experience to another level of school safety," said Brandt. "This is something I feel very passionate about. I want to do all that I can to make sure that our children are kept safe".
Brandt's replacement as police chief will be Officer Josh Cady. Dillsboro Town Council unanimously appointed Cady on July 9.
Cady begin as a reserve officer in 2007 and currently handles K-9 Officer Chevy. Cady will take part in the selection of a new full time K-9 officer.