Six area students are sharing in $1,900 in scholarship funding.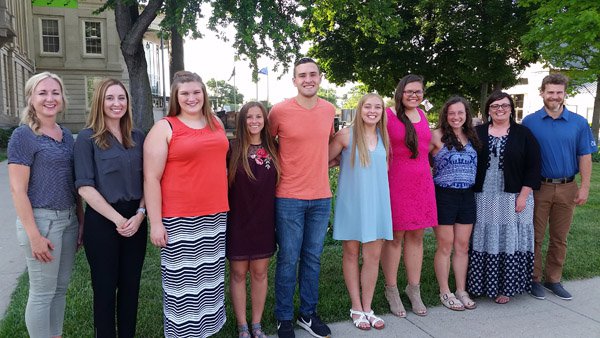 Pictured, left to right: Dearborn County Young Professionals committee members Sarah Jordan and Cara Brooks, scholarship recipients Grace Manford, Emma Pennington, Logan Lawrence, Ashton Hoog, Lacy Enneking, Emily Whitehead, and DCYP committee members Rachel Reynolds and Michael Lynch.
(Dearborn County, Ind.) - Six students from Lawrenceburg, South Dearborn, and East Central high schools have been awarded Dearborn County Young Professionals' Future Leader of Dearborn County Scholarships.
DCYP recently presented its annual scholarships recognizing graduating high school seniors' strong leadership, academic excellence, and big ideas. This year's six scholarships totaled $1,900. Amounts awarded to each student were based on the overall merits of their application.
The 2018 scholarship winners are Lawrenceburg High School's Logan Lawrence and Emma Pennington, South Dearborn's Ashton Hoog and Grace Manford, and East Central's Emily Whitehead and Lacy Enneking.
Logan Lawrence was awarded a $750 scholarship. He plans to attend Purdue University to major in biomedical engineering and may eventually attend medical school.
In their scholarship applications, each recipient was asked to write an essay about a business idea they have or devise a way to improve an existing local institution or business. Logan shared his dream of becoming a prosthetist and starting his own business in the prosthetics field.
"I know a few different southeast Indiana families that travel all the way to Lexington to attend appointments for new prosthetics. Also, building this business would create more jobs in Dearborn County. The biggest benefit to me would be being able to help those that lose limbs regain capabilities that they lost, such as veterans walking," Lawrence wrote in his essay.
Lawrence, who lives in Lawrenceburg, has also been his class president for three years, a three-year letter-winner for the LHS boys basketball team, and has put hundreds of hours into organizing his Cruisin' to a Cure for ALS Car Show in Lawrenceburg.
Emma Pennington won a $400 scholarship. After graduating from Lawrenceburg High School, the Greendale resident plans to major in biology at Purdue University with an aim toward becoming an ophthalmologist.
Ashton Hoog, of Manchester, was awarded a $250 scholarship. The South Dearborn High School graduate will attend Indiana University Bloomington where she plans to study computer science and join the Indiana University Marching Hundred.
Fellow SDHS graduate Grace Manford, of Dillsboro, received a $100 scholarship. Grace's plans are to attend Indiana University-Purdue University Indianapolis to pursue a degree in dental hygiene.
East Central High School graduate Emily Whitehead, of Sunman, was awarded a $300 DCYP Future Leader of Dearborn County Scholarship. Emily has been in the Indiana National Guard for a year and plans to continue to military police training this year. She expects to start college at Ball State University next spring.
EC graduate Lacy Enneking, of Sunman, received a scholarship of $100. Her post-graduation plan is to attend IUPUI to study medical imaging technology.
The Dearborn County Young Professionals Future Leader of Dearborn County Scholarships are funded by the group's annual 5K, sponsorship of the organization by local businesses, and membership dues.
DCYP plans to offer the Future Leader of Dearborn County Scholarships again in 2018-2019 to students at East Central, Lawrenceburg, and South Dearborn high schools. Interested students and parents can learn more by visiting www.dearborncountychamber.org/about/youngprofessionals or inquiring with their school guidance counselor.