Harrison Police were led on a vehicle chase June 13.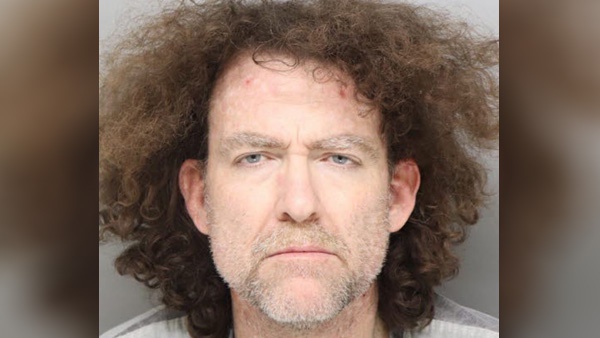 James B. Hickey. Photo by Hamilton County Sheriff's Office.
(Harrison, Oh.) – Police found that a vehicle chase suspect's cane had a 12-inch sword hidden inside.
James. B. Hickey, 49, of Harrison, faces a laundry list of charges following the June 13 police pursuit in Harrison, including resisting arrest, failure to comply, reckless operation, possession of drugs, possession of drug paraphernalia, obstruction of official business, carrying a concealed weapon, speeding, and other traffic violations.
According to a narrative by Harrison Police, an officer was exiting a parking lot on Stone Drive when a Chevrolet Cobalt driven by Hickey allegedly backed out of the parking lot at a high rate of speed, slid across the road, and almost struck another vehicle.
The officer attempted to make a traffic stop, but Hickey allegedly sped off at 60 MPH in the 25 MPH zone on Stone Drive. He allegedly made illegal passes of other vehicles and caused oncoming vehicles to swerve in order to avoid a head-on collision.
Because of Hickey's alleged dangerous driving, the officer terminated the pursuit near Harrison Avenue. However, the officer kept searching the area of Featherwood Drive and located Hickey's vehicle crashed into a curb. Witnesses told police that Hickey had run away from the crash.
Officers quickly caught up with Hickey, who struggled with them and refused to drop his cane. He was eventually tased by officers. He continued to resist after being taken to the ground, but surrendered and was handcuffed after officers warned of further tasing if he did not comply with their commands.
A witness had seen Hickey discard a cigarette pack as he fled police. Officers recovered the pack, allegedly finding that it contained 2.3 grams of methamphetamine. A glass pipe was allegedly discovered in Hickey's coat pocket.
The walking cane Hickey was carrying was found to contain a 12-inch sword blade, police said.
Hickey was transported to Mercy Medical Center in Harrison for treatment of injuries before he was booked into the Hamilton County Criminal Justice Center.