Drue returned to his former school ahead of Sunday's AFC Championship Game against Kansas City.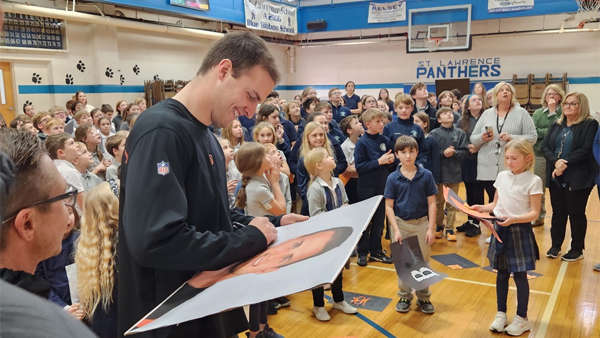 Drue Chrisman autographing a photo of himself at St. Lawrence School. Photo by Travis Thayer, Eagle Country 99.3.
(Lawrenceburg, Ind.) - Who Dey chants rang out Tuesday afternoon at St. Lawrence School in Lawrenceburg.
Cincinnati Bengals punter Drue Chrisman stopped by his old school for a surprise convocation in the St. Lawrence gymnasium. Chrisman, a Lawrenceburg native, made the short drive from his Greendale home to visit with students ahead of Sunday's AFC Championship Game against Kansas City.
@SLSPanthers students welcoming Drue Chrisman with a Who Dey chant. pic.twitter.com/xgZs2Njwzb

— Eagle Country 99.3 (@eagle993) January 24, 2023
Chrisman gave some opening remarks before taking some questions from the St. Lawrence students.
"Its great to be back and great to see all the new faces and remember that I was sitting right here and in those bleachers back there. And I remember playing basketball in this gym right here and people and family sitting in the rafters. It's awesome. It's great to be back. It's always good to remember where you came from and its not hard to do that when I'm still living in Greendale," said Chrisman. "I remember going out and playing recess and playing kickball. That's where I really figured out I had a strong leg was putting too many kickballs on the roof."
Chrisman started the Q&A portion of the convocation by asking the students if they know what a punter is. The first answer was, "I don't know."
Half of Drue's job is to hold the ball for Evan McPherson to kick extra points and field goals. The other half is pinning the opposition deep and make them go the length of the field to score.
Since taking over the starting job in Week 11, Chrisman is averaging 47.79 yards per punt, and has downed 13 of 28 punts inside the 20 yard line.
Chrisman also fielded questions about his friendship with Ja'Marr Chase, where he played in college, and if he always knew he wanted to be a punter.
Drue's response to the latter was, "no I wanted to be Joe Burrow."
He stopped playing quarterback in high school following an injury to his right elbow. That's when he picked up punting and the rest was history.
"I probably wouldn't be talking to you today if I was still trying to throw the ball instead of kicking the ball. I'm kind of glad the injury happened in a weird way," said Chrisman.
The final question of the event was about the Bengals winning the Super Bowl. The Bengals have been there three times in franchise history, including last season, but have never won the Lombardi Trophy. This year's team hopes to change that.
"Hopefully we can go back this year as long as we beat the Chiefs this Sunday and take care of business, said Chrisman. "It would be awesome to go back to the Super Bowl. We've never won the Super Bowl though, so hopefully I'm standing here next year and we can change that question to how many years we've won the Super Bowl."