The Rising Sun Regional Foundation recently awarded 16 third quarter grants.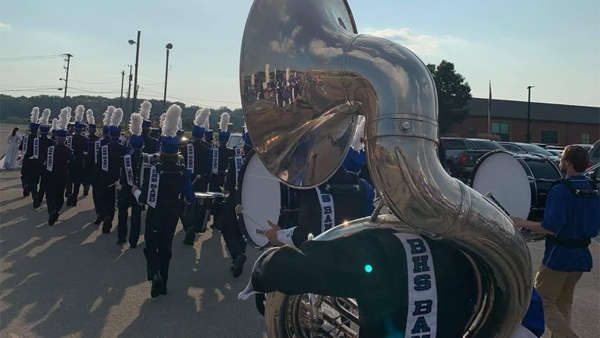 Photo provided.
(Batesville, Ind.) - A $30,000 grant from the Rising Sun Regional Foundation (RSRF) will be used to replace worn-out brass instruments within the Batesville High School (BHS) band program, according to principal Andy Allen. These new instruments will ensure that brass musicians from all types of backgrounds can continue their band experience with upgraded equipment.
Instruments requested on the grant application included baritones, mellophones, French horns, and a tuba. With the $30,000 awarded by RSRF, the Batesville band program will prioritize the brass instruments that are most in need of replacement. Whenever possible, existing equipment will be passed down to the band program at Batesville Middle School (BMS).
The Batesville High School band program is being revitalized under the leadership of new director Michael Walker. Walker came to Batesville this summer after successfully leading high school band programs in California. Since he arrived, the band has established a color guard program and BHS has made adjustments to class time offerings to allow more students the flexibility to participate in band while also taking other elective classes.
"One of the first things I did upon starting at Batesville was to take stock of our instrument inventory," Walker said. "The cost of large marching brass instruments is prohibitive for many families to purchase, so historically, students borrowed them from BHS. Upon inspection, it was evident to me that some of the instruments we possessed had outlived their capacity to produce quality tones. With that in mind, I sought out opportunities to obtain funding, since purchasing new large brass instruments is not currently in the budget at the schools. Most of these items cost several thousand dollars apiece."
"We are fortunate to have active partnerships in our community with groups that support the arts, such as the Batesville Area Arts Council (BAAC) and the Batesville Music Boosters," Allen noted, "however a request of this magnitude was outside their financial bandwidth. Since the Rising Sun Regional Foundation has a well-established large grant program, we thought that was a good place to start."
The Rising Sun Regional Foundation grants program is designed to primarily benefit the residents of Ohio and Ripley counties and the City of Aurora in the State of Indiana. It is funded by the Rising Star Casino & Resort, owned by Full House Resorts, Inc., which makes monthly contributions to the foundation based on a percentage of its adjusted gross revenue.
"I fully supported the grant application to RSRF, as I know the goals that Walker is setting for our band program," Allen said. "The marching band is entering competitions for the first time in many years, and the students need to have proper instruments in order to compete effectively. There are also parades and concerts on the schedule. I was happy to collaborate on the grant request so we could improve the musicality of the band. I want to thank RSRF for its support, as well as thank a private donor who made a generous contribution to our efforts to replace band instruments."
"Our high school band can enrich so many aspects of small-town life here in Batesville," Walker added. "Whether we are leading community parades, providing music at sporting events, or playing concert music, the band brings enjoyment and excitement. With refreshed brass instruments and a revamped band program, we hope the community understands our commitment to the fine arts in the Batesville public schools."
Anyone interested in learning more about the Batesville band program may contact Walker at mwalker@batesville.k12.in.us.
RELATED STORIES
Rising Sun Regional Foundation Awards 16 Third Quarter Grants