Learn about Chinese culture and the school's Mandarin Chinese Dual Language Immersion program.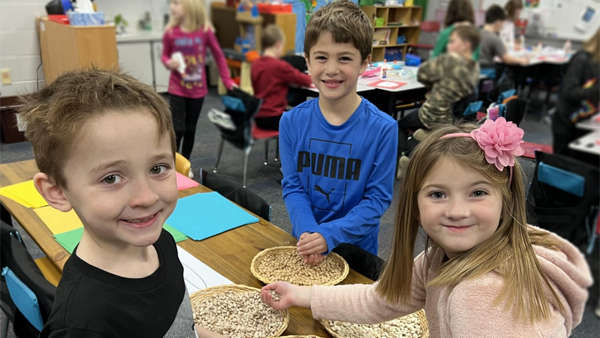 Batesville Primary School first graders engage in Chinese New Year activities in class. Photo provided.
(Batesville, Ind.) - A fun-filled public celebration of Chinese New Year will be held at the Batesville Primary School (BPS) on Saturday, January 28, offering members of the Batesville community a chance to learn more about Chinese culture and the opportunities available to students through the Batesville Community School Corporation's (BCSC) Mandarin Chinese Dual Language Immersion (DLI) program. Held at the BPS gym from 10:00 to 11:30 AM, this free event will feature activities for all ages.
"This is the first time that BCSC has organized a community event to celebrate Chinese New Year," said BCSC superintendent Paul Ketcham. "The purpose of this showcase is to share the rich cultural heritage of the Chinese people and to demonstrate the benefits of DLI in our educational environment to those who are interested."
The Chinese New Year celebration will feature a welcome from Ketcham, as well as performances from BCSC DLI students, ranging in age from kindergarten to sixth grade. Six activity stations will be set up in the gym and attendees can also sample Chinese food, such as dumplings, spring rolls, and fried noodles.
"We have been working hard to put together this cultural program," said Sharon Chia, Mandarin teacher at Batesville Intermediate School (BIS), who has been spearheading the event planning. "The activity stations will be open from 10:15 to 11:15 AM, with each activity taking approximately 10 minutes to complete. Each station will have a Mandarin teacher available to assist participants, and children who attend will be presented with a Chinese New Year card to be stamped at each station in order to be eligible for a prize drawing."
Activity stations include:
DLI Information, presented by BPS Mandarin teacher Guili Zhang
This booth will showcase current DLI student work and achievements, as well as offer information for prospective students.
Chinese Calligraphy and Paper Cutting, presented by Batesville Middle School (BMS) Mandarin teacher Emily Du
Attendees will have the opportunity to practice the traditional form of writing characters using ink and a brush, as well as cut different shapes for show luck and happiness in Chinese.
Dragon Craft, presented by BIS Mandarin teacher Nina Ni
According to Chinese culture, dragons represent good luck, strength, and health. At this station, attendees will make a dragon craft to take home with them.
Chopstick Practice and Games, presented by BIS Mandarin teacher Yang Chen
Chopsticks are unique eating utensils and have become an important symbol of Chinese tradition. This station will teach chopstick use techniques and games that can be played using them.
Ti jianzi (Kicking Shuttlecock) Game, presented by BPS Mandarin teacher Miaochang Lin
Participants can try jianzi, a traditional Chinese national sport, which involves keeping a shuttlecock in the air as long as possible, using any body part to propel it—except the hands.
Photo Booth, presented by BPS Mandarin teacher Sherry Mursch
Using props for Chinese New Year, attendees can have their photos taken wearing traditional costumes for the Chinese festival.
"Children who attend will receive a red packet as a gift from BCSC to express our wish for them to grow strong and healthy in the new year," Ketcham said. "I especially want to invite local families with preschool children who are considering our DLI Mandarin program to stop by. They can see examples of what our students learn and ask any questions they might have about how the program works."
"We want to invite everyone in Batesville to celebrate Chinese New Year with us," added Chia. "From games, crafts, decorations, food, and fun, we are bringing a big Chinese experience to our small community. Come and celebrate the festival with us."