The total cost of the building project is estimated to be around $54.2 million.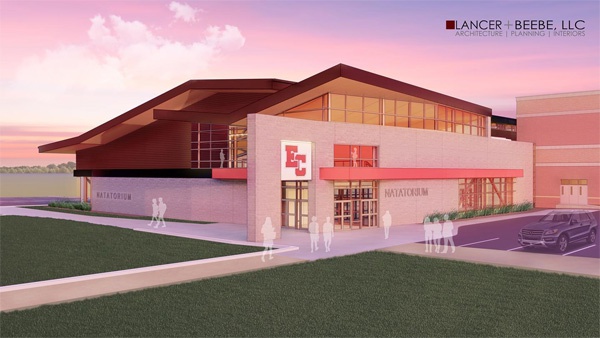 A rendering of the new East Central HS Natatorium. Photo by Lancer + Beebe, LLC.
(St. Leon, Ind.) – Sunman-Dearborn Community Schools are getting upgrades across the board.
During the 2018-19 school year, the board hired architects Lancer + Beebe to conduct a Feasibility Study to determine various facility needs.
The top priority from the feasibility study was to keep all schools within the corporation safe, warm and dry with upgrades or improvements to boilers, air conditioners, roofs, windows, mechanicals, safety features, and other such items.
Superintendent Andrew Jackson joined Eagle Country 99.3 on Tuesday to provide an update on the project.
Jackson tells Eagle Country 99.3 that the total cost of the project is approximately $54.2 million. The cost is broken down into $45 million in actually construction costs and another $8 million in soft, which covers various fees for the construction managers, architects, engineers and so on.
Jackson says the project will be paid off over the next 17 years, and that property taxes won't rise.
"In terms of the scope, its very large because it touches on a lot of different categories and it touches every building," said Jackson. "We had a presentation a while back now and we called them our top priority items, what we reference as the warm, safe and dry, so it was protecting our building envelopes, our roofing, so just about every building except the middle school got either a complete roof replacement or a majority of roof replacement."
Other improvements have been made or will be made to various flooring, playgrounds at three elementary schools, changing site circulation at the middle school, and athletic spaces.
In terms of athletic spaces, Jackson says new ADA compliant sidewalks will be installed at all athletic facilities. Another exciting development is the creation of a new culinary lab at the high school.
"It will be one of the top culinary labs in southeastern Indiana," said Jackson.
Perhaps the most exciting project is the new East Central High School Natatorium.
When the board was presented with a recommendation to renovate the existing pool area, they took it one step further by investing in a new space that will include more seating and a diving well, something the existing pool area lacks. The hope is that the Natatorium will eventually host regional swimming and diving competitions. It will also be used as part of physical education programming, in addition to being opened to community members.
HEAR DOUBLE T's FULL INTERVIEW WITH ANDREW JACKSON IN THE AUDIO PLAYER BELOW
"We don't want to have this beautiful built back there, a state-of-the-art pool, and have it sit empty most of the year," said Jackson.
As for the existing pool area, it will be re-purposed into an additional physical education space for the middle school.
The overall building project is expected to be completed by the summer of 2023. Interior work will happen over a period of time, during school breaks. Work won't take place during the upcoming Fall Break, but Jackson says a bulk of the work will take place during the summer months.
"We thank the community and the board for support. The board has really been visionary in terms of this process and a long term plan to to be able to do this large of a process without raising taxes. We've had a lot of good feedback from the community and we are excited about what's coming with these facilities."
AUDIO: Sunman-Dearborn Considering Up To $48M In School Improvements