Coding and cybersecurity is their specialty.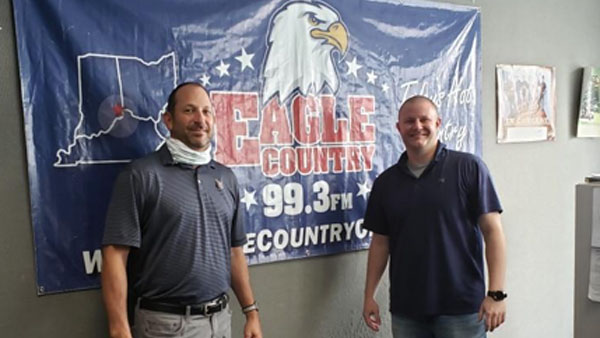 Josh Guttman, President of Kable Academy (left) joined Double T Tuesday afternoon to chat about Kable Academy. Photo by Jack Clevenger, Eagle Country 99.3.
(Cincinnati, Oh.) – If you are interested in a career in web development or cybersecurity, there is a place to get started in the tri-state area.
Kable Academy is a coding and cybersecurity academy created for people who are ready to accelerate their careers and transform their lives by acquiring job ready tech skills.
Their web development and cybersecurity programs run in 12-week full-time and 24-week part-time intervals.
"We cater the program to your needs," said Josh Guttman, President of Kable Academy. "We focus on web development and cybersecurity because that's where the most jobs in our local region of the Greater Cincinnati, which includes Lawrenceburg and the Indiana side of Greater Cincinnati."
The 12-week program runs Monday through Friday from 9:00 a.m. - 4:30 p.m. Part-time classes are offered Monday through Thursday 6:00 – 9:00 p.m. Part-time students also go one full Saturday a month.
"At the end of it, you will have the skill sets to get the credentials that you'd like to get," said Guttman. "You can test in the credentials; we'll pay for one of those credentials. Then you go and you look for jobs and we'll help you do that. We don't guarantee a job, but it's a high probability you'll get a job."
Anybody that wants to apply will take a logic-based assessment. The assessment tells Kable Academy if you have the mindset that will likely make you successful for IT.
"We don't want to set anyone up for failure and most people pass it, but some don't," said Guttman. "We have lawyers that have incredible IQ's that have to pass it. It is just how your mind works. Are you someone that would be good in the IT field."
HEAR THE FULL INTERVIEW IN THE AUDIO PLAYER BELOW
If you are a good fit and you graduate, there is money to be made with starting salaries in IT being around $45,000, according to Guttman. Some students could make up to $60,000 straight out of Kable Academy.
Guttman says the coolest part about IT is that within six months or a year, the company you are working for is going to pay you more or you are going to leave and go get paid more.
"There is a plethora of jobs available in the IT sector right now," said Guttman. "It is one of the few areas even in this world we are living in right now where there is just mass opportunity for jobs. For high-paying, professional skill jobs where you can actually move up to continue to make higher incomes throughout your entire career."
Aside from making good money, Kable Academy can help you save or at least stay out of debt. Guttman says financial assistance is available for those who take the assessment.
"Probably the coolest program we have for those that qualify, which is most is we don't take any money down or make you guarantee any payment, said Guttman. "What we do, is say you only pay us if you get a job. If you get a job, you make payments."
For more information, visit www.KableAcademy.com.
"IT is an area that you can learn," said Guttman. "Its not hard to learn and you can actually have that as a skill set, a career path in life."