The annual fundraiser helps area agencies assisting mentally handicapped citizens.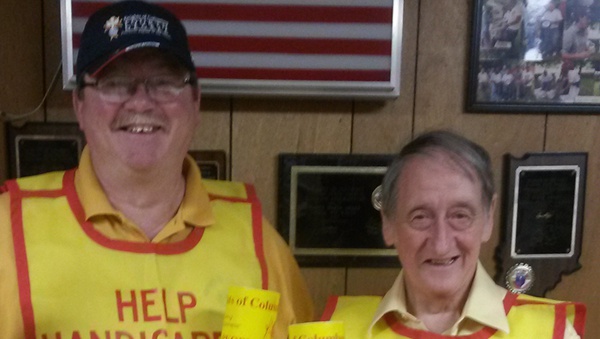 Knights of Columbus Msgr. William Kreis Council 1231 members Jeff Lacey and Jim Hamill. File photo.
(Lawrenceburg, Ind.) - The 41st Annual Community Campaign in behalf of the area's mentally disadvantaged, conducted by the Msgr. William J. Kreis Council 1231 of the Knights of Columbus in Lawrenceburg, was held back on Friday and Saturday, May 11-12th. Remarkably, this year's campaign was again an outstanding success, with $8,371.08 in net proceeds.
Unquestionably providing a positive tone for this event at the outset, prior to the drive, was the official proclamation issued by Mayor Kelly Mollaun, which designated the weekend of May 11-12th as "Tootsie Roll Weekend in Lawrenceburg."
Additionally, as in recent years, preceding the storefront collection, an appeal letter was mailed to Lawrenceburg area businesses and professionals, requesting their gracious assistance by sponsoring a case of Tootsie Rolls. As ever, their response was quite generous, totaling $1,396.50.
Accordingly, the council extends sincere thanks to each of the following: Dr. Jeffrey Ahaus - Dearborn Optical, Deb Alvey, Anchor Glass Container Corporation, Linda J. Blackwell, Martin De Julia, Attorney at Law; Gardens Alive!, Haag Ford Sales, Home Furniture, Hrezo Engineering, Inc.; Michael R. Kennedy, Knigga's Barber & Styling Shop, Tony Mapes, Mortenson Family Dental, Stephen & Christine B. Mueller, Pinnacle Advisory Group Inc. of Indiana, Nicole L. Rahn & Michael J. Rahn, D.P.M. - Centers for Foot & Ankle Care, Robinson & Sons Trucking, Inc.; Seitz Agency, Inc.; Sequoia Construction of Indiana, LLC; Trade & Industrial Supply, Inc.; United Community Bank, Whitewater Canal State Historic Site, Walter C. & Sylvia Wilson, and Bill & Judi Yelton.
The Knights truly thank, commend, applaud, and salute each of the following businesses for granting permission for the use of their storefronts by our volunteers: AmeriStop Food Mart, CVS/Pharmacy, In & Out Mart/VP Racing Fuels, Kroger Company, Orscheln Farm & Home Supply, Whitey's Liquor Store, Whitey's Package Store, and Whitey's Wine & Liquor Company.
As noted by campaign chairman Jim Hamill, "The collection at each of these locations is vitally important to the overall success of this endeavor." Reflecting this, the two-day total collected was $6,974.58. Hamill credited this success to the "positively dynamic efforts of the council membership, wives, youths, and volunteers in achieving such an excellent total."
Finally, the Knights extend sincere and genuine thanks to all those within the Lawrenceburg area, who again contributed so generously to this campaign, and without whom none of this would have been possible. By any objective standard, this absolutely reflects a caring and giving community with a great heart. Again, deepest and most heartfelt thanks to all of you.
Significantly, total disbursement to the various area agencies and programs assisting the mentally handicapped by Council 1231 since the inception of this annual endeavor in 1978, and including this year's total, now stands at $249,899.23. Final distribution this year is as follows: $2,290.36 each to New Horizons Rehabilitation Center of Batesville, R-O-D (Ripley-Ohio-Dearborn) Special Education Cooperative of Sunman, and the local Special Olympics, with $1,000 extended to ARC of Dearborn County, and $500 to the Batesville Deanery Special Adult Religious Education Program.