NASCAR fans and executives traveling to Kentucky Speedway may soon have a closer airport option.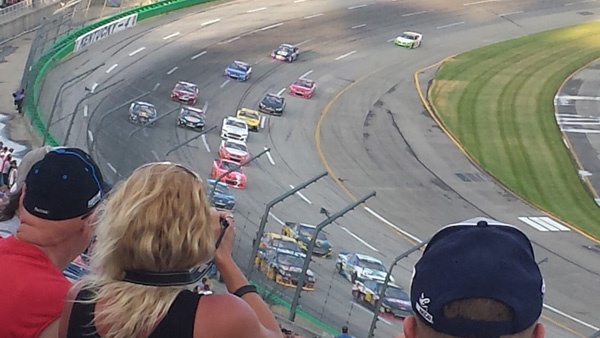 Kentucky Speedway. Photo by Mike Perleberg, Eagle Country 99.3.
(Gallatin County, Ky.) – Getting two Kentucky Speedway could become a little easier for NASCAR's high-fliers with a new airport in Sparta.
The Federal Aviation Administration has awarded a $9 million Airport Improvement Program discretionary grant for construction of a new Gallatin County airport, according to U.S. Congressman Thomas Massie (R-KY 4).
"I've been a member of the House Committee on Transportation and Infrastructure since I came to Congress in 2012," said Rep. Massie in a news release. "This Congress, I serve on the Aviation Subcommittee, the Subcommittee on Highways and Transit, and the Subcommittee on Water Resources (locks and dams). I sought to serve on these committees because the federal government has a legitimate role in maintaining interstate infrastructure. I'm excited to see how the new construction in Gallatin County will improve transportation for Kentucky's 4th district."
Gallatin County's airport project is one of six small, regional airports in Kentucky to receive a grant, according to the FAA. The funds for the airport grants come from taxes on airline tickets and aviation fuel.
United States Secretary of Transportation Elaine Chao said, "The Department has been investing heavily in our nation's airport infrastructure, which will strengthen economic growth and create jobs in communities across the country."
Kentucky Transportation Cabinet Secretary Greg Thomas said, "Governor Bevin has been a moving force since the beginning of his Administration in getting this 15-year-long project off the ground by securing land for the airport that's primed to spur economic development in this growing region of the state. I'd like to thank Congressman Massie for his role on the House Committee on Transportation & Infrastructure and the U.S. Department of Transportation for investing in the future of Kentucky."