Jeffrey and Bonnie Henderson were responsible for multiple daytime burglaries in Dearborn County last year.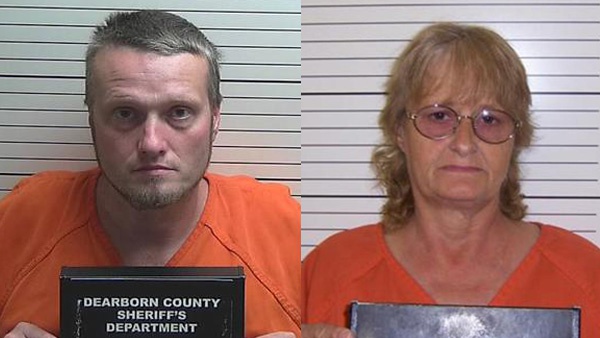 Jeffrey Henderson and Bonnie Henderson. Photos by Dearborn County Sheriff's Department.
(Dearborn County, Ind.) – A mother and son burglary team are going to be in prison for a while.
Jeffrey Wayne Henderson and his mother, Bonnie Henderson, were arrested after committing a string of daytime burglaries in the Manchester Township area of Dearborn County. Their arrests in October of 2017 came after more than a dozen homes were hit over the previous three months.
Detectives with the Dearborn County Special Crimes Unit, Indiana State Police and the Dearborn County Sheriff's Department identified Henderson as a suspect. Sure enough, when they served a search warrant at his home, items taken during the burglaries were found in his home.
Jeffrey Henderson pleaded guilty to 17 counts of Burglary (level 4 felony). On November 29, Henderson went before Dearborn Circuit Court Judge James D. Humphrey for sentencing. The judge slapped him with an 88-year sentence.
Humphrey cited Henderson's criminal history, which included 19 prior felony convictions. Seventeen of the past convictions were for burglary.
Bonnie Henderson pleaded guilty in August to Burglary (level 4 felony) for her role in the break-ins. She was sentenced to 10 years with four years suspended to probation.
Dearborn-Ohio County Prosecutor Lynn Deddens said residents can sleep a bit easier following the sentencing of Jeffrey Henderson, who she called a career burglar.
"These detectives, with help from the community, were able to solve the rash of burglaries perpetrated by these two individuals and now, Mr. Henderson will serve a significant sentence for his crimes," said Deddens.
RELATED STORIES:
Detectives Unravel Story Of "Stolen" Prescriptions Pills