The annual ball raised $136,683.42.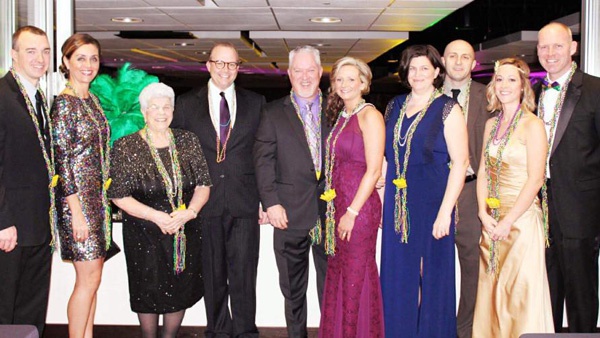 Photo provided.
(Lawrenceburg, Ind.) - The 2018 Mardi Gras Ball to benefit the Children's Advocacy Center of Southeastern was a huge success!
This year's event was held on February 10th at The Lawrenceburg Event Center and was once again sponsored by Celeste Calvitto, owner of CalComm Indiana. The annual ball raised a net record-breaking $136,683.42 to help provide much-needed services to alleged victims of child abuse within our region. This was an astonishing $30,000 increase compared to last year. This significant accomplishment could not have been possible without the generosity of numerous sponsors, volunteers, silent auction donors, attendees and especially the King and Queen candidates competing to represent their individual counties.
This year, the King and Queen pairs represented five different counties from across Southeastern Indiana and, collectively, they raised $59,422.54. Lance and Katie Collier from Switzerland County brought in an enormous total of $26,569.90 and were ultimately crowned King and Queen for this monumental evening. We could not be more proud of all the couples who selflessly devoted their time to a cause greater than themselves by working so diligently to raise level of awareness about child abuse-related issues within their own local community while also competing to raise money.
This wonderful event would not have been possible without the generous support of our sponsors, which included:
CalComm Indiana
Interim HealthCare
Friendship State Bank
United Community Bank
Haag Ford
Dearborn County Chamber of Commerce
Dearborn County Tourism
Adams Cooling Tower
Ivy Tech
Batesville Tool & Die
Maxwell Construction
Hillenbrand, Inc.
Vickie & Doug Rosemeyer
Hill-Rom
Margaret Mary Health
Dearborn County Hospital
Seitz Insurance
King's Daughter's Health
St. Leon Skyline Chili
Lauber & Will Insurance
Please mark your calendars for next year's event which will be held on February 23, 2019 and will support a wonderful cause while creating an incredibly enjoyable evening to support children. Celeste Calvitto, owner of CalComm Indiana, has once again made a vital commitment to sponsoring next year's 2019 Mardi Gras Ball. We could not be more grateful for her continuous support.
The CAC of SEI is a nonprofit corporation created in 2009 to minimize the trauma suffered by alleged victims of child abuse in a child friendly setting. The center is specifically designed to use a multidisciplinary team approach which facilitates the prevention, detection, investigation and treatment of child abuse and neglect.
For more information or to make your own IRS tax-deductible donation, please contact the Children's Advocacy Center of Southeastern Indiana 12211 Rullman Drive in Dillsboro, IN 47018 (ph# 812.432.3200) or go to: www.cacsoutheast.org.
Kings & Queens from each county:
Switzerland – Lance & Katie Collier
Jefferson – Josh Weber & Donna Dattilo-Jackson
Ripley – Tyler & Whitney Bond
Ohio – Brian & Katie Earls
Dearborn – Tim & Jessie Doll