The Raiders and Shiners are off to good starts this fall sports season.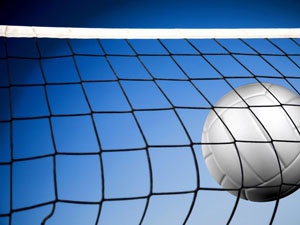 (Versailles, Ind.) – Fall sports athletes from South Ripley and Rising Sun high schools are dominating this week's Ohio River Valley Conference weekly honors.
South Ripley's Elexah Roepke was named the ORVC Volleyball Player of the Week for August 20-25. In three matches, she amassed 20 kills, 21 aces, 21 digs, and an 85 percent serve success rate in guiding the Raiders to a 2-1 record.
Classmate Megan Cole's two performances in separate meets at Shelbyville High School earned her the ORVC Runner of the Week award. Cole, a senior, ran one race in 19:57 and another in 19:40.
The boys Runner of the Week award went to Southwestern's Bradley Winston. He completed the course in 18:31 at a Shelbyville meet.
Rising Sun soccer star Zac Brokaw claimed the coference's boys soccer player weekly award. He racked up 3 goals and 2 assists in one match against Trinity Lutheran, helping the Shiners open their season with a win.
Fellow shiner Kinsey Price was named the ORVC Girls Soccer Player of the Week. She had a jaw-dropping 7 goals and 7 assists in three matches.
Shawe Memorial's Katie Hertz was named the ORVC Girls Golf Player of the Week.
Other top performers in the ORVC this week included:
VOLLEYBALL
Danyka Groover (RS) 17 kills, 6 blks vs. Switzerland Co.
Kassidy Romans (RS) 93% serve, ace, 73% pass, 24 digs vs. Switzerland Co.
Sydney Bostic (RS) 100% serve, ace, 98% set, 25 KA's vs. Switzerland Co.
Elexah Roepke (SR) 20 kills, 85% serve, 21 aces, 21 digs in 3 matches
Lindsey Meyer (SR) 23 kills, 20 digs in 3 matches
Cheyenne Caplinger (SR) 92% serve, 8 aces, 90% set, 19 KA's in 3 matches
Kate Grote (SM) 3 kills, 2 blk in 2 matches
Grace McAllister (SM) 2 kills, 7 blk in 2 matches
Pheobe Grote (SM) 92% serve, ace in 2 matches
Regan Carroll (JCD) 15 kills, 12 blk, 96% pass, 4 digs in 3 matches
Shai Schmeltz (JCD) 100% serve, 2 aces, 75% pass, 14 digs in 3 matches
McKenzy Gray (JCD) 91% serve, 3 aces in 3 matches
GIRLS CROSS COUNTRY
Brinkman (M) 23:26 / 23:07 Shelbyville / Shelbyville
Knowlton (M) 28:14 / 26:13 Shelbyville / Shelbyville
L. Lillis (M) 28:44 / 25:50 Shelbyville / Shelbyville
Maddy Bovard (RS) 26:46 South Dearborn
McKenzie Ellegood (RS) 28:41 South Dearborn
Julia Worcester (SW) 25:02 Shelbyville
Kearstin Geary (SW) 25:04 Shelbyville
Ashton Goode (SW) 26:45 Shelbyville
Leah Anders (SC) 21:21 Shelbyville
Alisha Detmer (SC) 23:47 Shelbyville
Matty Anderson (SC) 24:01 Shelbyville
Megan Cole (SR) 19:57 / 19:40 Shelbyville / Shelbyville
Elyse Hunger (SR) 22:28 / 22:51 Shelbyville / Shelbyville
Jessica Vogel (SR) 25:16 / 24:01 Shelbyville / Shelbyville
BOYS CROSS COUNTRY
Thielmann (M) 20:46 / 20:52 Shelbyville / Shelbyville
Burdette (M) 21:31 / 21:18 Shelbyville / Shelbyville
Haessig (M) 21:47 / 21:50 Shelbyville / Shelbyville
Dalton Vinup (RS) 20:02 South Dearborn
Grant Taylor (RS) 21:19 South Dearborn
Chris Bowne (RS) 23:57 South Dearborn
Bradley Winston (SW) 17:35 Shelbyville
Gavyn Mundt (SW) 18:31 Shelbyville
Trevor Smith (SW) 18:35 Shelbyville
Garrett Demaree (SC) 19:53 Shelbyville
Ben Hicks (SC) 21:51 Shelbyville
Dylon Wilhoit (SR) 21:46 / 20:47 Shelbyville / Shelbyville
Nick Zigan (SR) 21:50 / 21:11 Shelbyville / Shelbyville
Jacob Elliott (SR) 23:49 / 21:40 Shelbyville / Shelbyville
GIRLS GOLF
Annalise Boor (JCD) 64 @ Butler Falls, 56 @ North Branch, 61 @ North Branch
Brooke Heaton (JCD) 63 @ Butler Falls, 64 @ North Branch, 59 @ North Branch
Katie Hertz (SM) 47 @ Sunrise, 49 @ North Branch, 44 @ North Branch,
47 @ Sunrise, 49 @ Butler Falls
Kate Grote (SM) 58 @ Sunrise, 61 @ North Branch, 59 @ North Branch
BOYS SOCCER
Jake Bovard (RS) 3 goals vs. Trinity Lutheran
Zac Brokaw (RS) 3 goals, 2 assists vs. Trinity Lutheran
Landon Cole (RS) goal, assist vs. Trinity Lutheran
Mitchell Cline (SW) goal vs. Madison
Kaden Zellers (SW) goal vs. Madison
GIRLS SOCCER
Kinsey Price (RS) 7 goals, 7 assists in 3 matches
Sydney Pitts (RS) 4 goals, 7 assists in 3 matches
Hannah Warr (RS) goal, assist in 3 matches
Liz Sutherlin (M) 2 goals, assist vs. South Ripley
Jordan Combs (M) goal vs. South Ripley
Lily Phelps (M) goal vs. South Ripley