The Raiders are coming off a 13-11 season.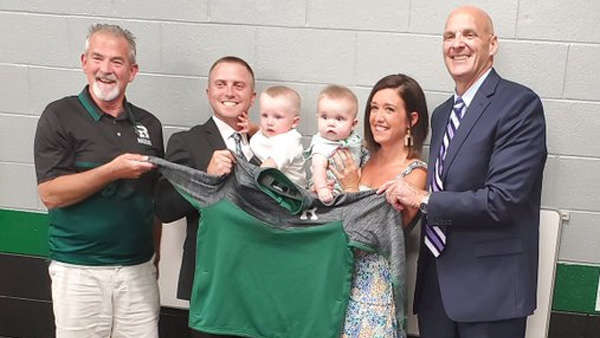 Photo by South Ripley Sports.
(Versailles, Ind.) - South Ripley High School has a new boys varsity basketball head coach.
Seve Beach was introduced as Raiders head coach on Monday evening.
"We (my family and I) are honored and excited to become part of the South Ripley community," said Coach Beach. "In regards to basketball, there is a similar feel within the community that relates to my experiences. South Ripley has a rich history of success and high expectations which we plan to continue to develop as we move forward."
Coach Beach replaces Tyler Theising, who recently accepted a teaching position at East Central and will help Coach David Disbro with the boys high school basketball teams.
Theising led South Ripley to a 58-36 record over the past four seasons, including a 21-2 record during the 2020-21 season.
Beach comes to South Ripley with plenty of head coaching experience. He served as the boys varsity head coach at Centerville for five seasons between 2016 and 2020. During that time, his teams went 43-72.
"We will continue to put a strong emphasis on developing the strong feeder system that has been put into place," said Coach Beach. "We strongly believe in having a feeder system in place to help develop the student-athletes within the basketball program. We will expect to compete for county, conference, and sectional titles as well. There is already strong community support so we will use that in every way we can to help these kids have a successful experience. We will hopefully see that success on the court but just as importantly, we want to teach the kids lessons they will be able to use the rest of their lives.
We are excited to have Coach Beach at SR! Go Raiders!! https://t.co/kg0Jk1lukn

— South Ripley Sports (@SRipleySports) May 17, 2022