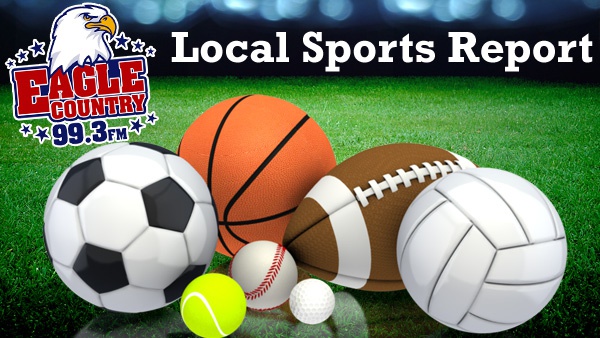 Switzerland County girls hosted and won the ORVC Track & Field Championship on Tuesday.
Please report missing scores and statistics to 888-537-9724 or email sports -at- eaglecountryonline.com.
BASEBALL
Batesville 17, Hauser 6 – Batesville slugger Calvin Sherwood went 2-for-5 with a double and 4 RBI. Trey Heidlage had three hits and scored 3 runs. Quinn Werner hit a home run with 3 RBI.
Franklin County 1, Greensburg 0 – Franklin County's Jacob Hartman hit a walk-off single to win it. Hartman was 2-for-3 with an RBI. Joe Fields pitched the complete game shutout with 3 Ks, 2 hits, and a walk.
Southwestern 5, Rising Sun 4
Seton Catholic 7, Oldenburg Academy 0
SOFTBALL
East Central 4, Batesville 0 – EC starter Megan Kincer locked down Batesville for just 4 hits and a walk while striking out 8 in pitching the 7-inning complete game. Kincer also went 2-for-4 at the plate with a home run and 2 RBI.
Rushville 5, Franklin County 2 – FC's Shaden Galyen was 3-4 at the plate with 3 singles, 3 RBIs, and 2 runs, and also made some nice defensive plays in center field.
GIRLS TENNIS
East Central 5, Connersville 0 – EC finishes as EIAC co-champions with a 6-1 conference record.
Girls Tennis defeated Connersville 5-0 tonight. They finished 6-1 in conference and Co-Champions. Only the 2nd time in EC history winning the EIAC Conference. #14-1overall #ECtennis @ECTrojanSports @tblacksunmande1 @S_DCSC @SDCS_SUPER pic.twitter.com/BKOSvTZURY

— East Central Tennis (@ECTrojanTennis) May 7, 2019
TRACK & FIELD
Ohio River Valley Conference Championships
The ORVC conference meet held Tuesday at Switzerland County High School was won by the Switz girls and the Southwestern (Hanover) boys.
Team standings for the girls was Switzerland County 115, Jac-Cen-Del 89, South Ripley 73, Southwestern 69, Rising Sun 47, Milan 47, and Shawe Memorial 24.
Boys team standings were Southwestern 145, Jac-Cen-Del 80, Switzerland County 61, Milan 57, Rising Sun 55, South Ripley 52, and Shawe 15.
Local conference champs in individual events included below. Find full meet results at http://www.stuartroadracing.com/track/2019-5-7%20ORVC%20Championship%20Results.htm.
Girls 100 Meter Dash – Raylinn Kappes, Switzerland County, 12.93
Girls 200 Meter Dash – Raylin Kappes, Switzerland County, 27.62
Girls 400 Meter Dash – Kinsey Price, Rising Sun, 1:02.58
Girls 800 Meter Run – Leah Anders, Switzerland County, 2:31.75
Girls 1600 Meter Run – Megan Cole, South Ripley, 5:17.59 (new meet record)
Girls 3200 Meter Run – Megan Cole, South Ripley, 11:30.41 (new meet record)
Girls 100 Meter Hurdles – Cloey Simon, Jac-Cen-Del, 47.81
Girls 4x100 Meter Relay – Switzerland County, 53.80
Girls 4x400 Meter Relay – Switzerland County, 4:26.84
Girls 4x800 Meter Relay – South Ripley, 10:31.03
Girls High Jump -Aleiah Thomas, Switzerland County, 5'0"
Girls Shot Put – Shaylee Volz, Jac-Cen-Del, 30'10.5"
Girls Discus Throw – Madalyn Wilson, Rising Sun, 94'3"
Boys 100 Meter Dash – Peyton Cavins, Milan, 11.21
Boys 800 Meter Run – Damon Hughes, Jac-Cen-Del, 2:08.97
Boys 1600 Meter Run – Damon Hughes, Jac-Cen-Del, 4:40.41
Boys 110 Meter Hurdles – Daniel Daugherty, Rising Sun, 16.02
Boys High Jump – Jacob Elliott, South Ripley, 5'10"
Boys Shot Put – Zach Howlett, Switzerland County, 44'5"
Boys Discus Throw – Zach Howlett, Switzerland County, 135'6"
Senior recognition at ORVC Track Meet! pic.twitter.com/q0MtIw84I3

— Milan Track & Field (@MilanTrack) May 7, 2019
Conference champions- Maddi Wilson in Discus, Daniel Daughtery in High Hurdles, and Kinsey Price in the 400. @orvcsports #GoShiners pic.twitter.com/iDxLAy1AL3

— Rising Sun Shiners (@rsshiners) May 8, 2019