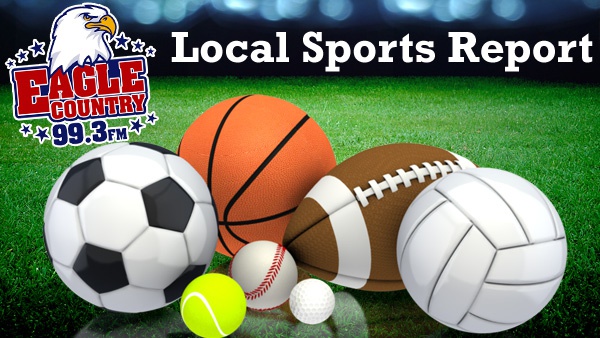 East Central boys track and field won their sixth straight team sectional championship Thursday.
Please report missing scores and statistics to 888-537-9724 or email sports -at- eaglecountryonline.com.
BASEBALL
East Central 9, Lawrenceburg 2 – Jared Riehle led East Central in going 2-for-3 with a double, 2 RBI, and 2 runs scored. EC starter Gunnar Seig earned the win with 6 Ks over 5 innings while only surrendering 5 hits, 4 walks and 2 earned runs.
SOFTBALL
South Dearborn 5, Jennings County 1 – SD's Chayse Hoskins was 2-for-3 with a double and 2 RBI. Jessi Matthews and Alexis Dittmer also knocked in runs. Graci Cornett pitched great in 7 innings of work with 6 strikeouts, 4 hits, 2 walks, and an earned run.
Trinity Lutheran 7, South Ripley 0
Oldenburg Academy 5, Jac-Cen-Del 3
Madison 11, Switzerland County 3
TRACK & FIELD
IHSAA Boys Track & Field Sectional at East Central
Just as the East Central girls track team did a couple nights earlier, the Trojans boys team repeated as champions at the IHSAA Boys Track & Field Sectional on Thursday on their home field. This marks six straight sectional titles for EC boys. The Trojans tallied 164 points at the 13-team meet. Batesville was second with 118.5 and Franklin County was third with 74.50.
Local sectional champions in individual events:
100 Meter Dash – Alex Hornbach, East Central, 11.22
200 Meeter Dash – Alex Hornbach, East Central, 22.80
400 Meter Dash – Matthew Riehle, Milan, 50.13
800 Meter Run – Adam Moster, Batesville, 1:58.25
1600 Meter Run – Joshua Myers, Batesville, 4:39.55
3200 Meter Run – Ean Loichinger, 10:21.25
110 Meter Hurdles – Malachi Studer, East Central, 15.10
300 Meter Hurdles – Chase Ludwig, East Central, 41.21
4x100 Meter Relay – East Central's Erik Perkins, Chase Ludwig, Keiton Goeldner, and Alex Hornbach, 43.60 (new sectional record)
4x400 Meter Relay – East Central's Alex Hornbach, Clayton Deitsch, Erik Perkins, and Chase Ludwig, 3:30.94
4x800 Meter Relay – Batesville's Kames Kuisel, Johnathan Lynch, Benjamin Moster, Adam Moster, 8:39.65
High Jump – Malachi Studer, East Central, 6'4"
Pole Vault – Austin Boggs, South Dearborn, 13'8"
Long Jump – Jacob Schatzle, Franklin County, 21'5.5"
Shot Put – Leo Maxwell, East Central, 51'0"
Discus Throw – Mike Medlock, East Central, 148'3"
View full meet results at http://www.stuartroadracing.com/track/2019-5-16%20East%20Central%20Boys%20IHSAA%20Sectional%2024%20Results.htm.
Congratulations to 400m Dash Sectionals Champ with an unofficial time of 49.67!@matthew_riehle @MilanAthletics pic.twitter.com/nJgocu40kg

— Milan Track & Field (@MilanTrack) May 17, 2019