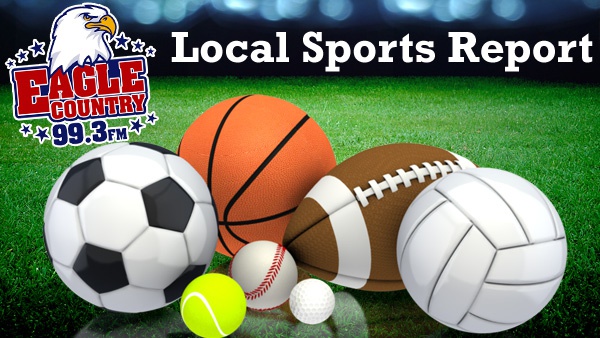 Rising Sun slugger Lindsay Montgomery knocked in eight runs in one game on Friday.
Please report missing scores and statistics to 888-537-9724 or email sports -at- eaglecountryonline.com.
FRIDAY, MAY 10
BASEBALL
Rising Sun 22, Shawe Memorial 0 – Rising Sun's Brayden Bush collected 2 doubles as part of his 3-hit, 4-RBI day. Landon Cole and Max Bowne each had a hit and 3 RBI. Jacob Bovard struck out 10 hitters and gave up just one hit in 5 innings.
Milan 7, Jac-Cen-Del 4 – Jac-Cen-Del's Nate Scroggins had 2 doubles and an RBI.
Southwestern 12, South Ripley 1
SOFTBALL
East Central 14, Rushville 6 – Natalie Schnell led EC with 2 doubles, 5 RBI, and 2 runs. Lindsay Henson added a home run and two hits for 4 RBI and 3 runs, while also pitching 3.2 innings with 2 earned runs, 5 hits, 6 walks, and 5 Ks to earn the win. Pitts and Cora Poling combined to strike out 7 hitters over 5 shutout innings.
Greensburg 12, Batesville 2
Rising Sun 25, Shawe Memorial 0 – Lindsay Montgomery exploded for 3 hits with a double, 8 RBI and 3 runs to power the Shiners' offense. Sydney Pitts was 3-for-6 with 3 RBI and 4 runs scored.
Milan 11, Jac-Cen-Del 3 – Milan's Taryn Cline had a double with 4 RBI and a run scored. Cassie Franklin added 2 hits for 2 RBI and a run. Erin Widener pitched well to win with 7.0 innings, 6 Ks, 4 hits, 2 walks, and 2 earned runs.
Southwestern 11, South Ripley 1
GIRLS TENNIS
Southwestern 4, Milan 1
SATURDAY, MAY 11
BASEBALL
Charlestown Invitational
South Dearborn 2, Boonville 1
Batesville 4, Jac-Cen-Del 0 – Batesville starter Lane Oesterling gave up just one hit and struck out 6 hitters in 4.0 innings. Casey Werner earned a save with three shutout innings with 6 Ks. Batesville's runs were knocked in by Trey Heidlage, Travis Lecher, Caleb Raab, and Shane Meer.
North Decatur 10, Rising Sun 5 – Rising Sun runs were batted in by Payton Bell, Steven Jiminez, and Landon Cole.
Oldenburg Academy 16, Switzerland County 4
SOFTBALL
South Dearborn 8, Rushville 2 – SD's Graci Cornett was 3-for-4 with a home run, 2 RBI and a run scored. Cornett also got the start and the win on the mound with 7 Ks, 6 hits, 2 walks, and 2 earned runs in 7 innings. Jessi Mathews went 2-for-4 with a double, 2 RBI, and a run.
South Dearborn 6, Rushville 5 – Jessi Mathews was 2-for-3 with 2 RBI and a run scored to pace the South Dearborn offense. Alexis Dittmer and Bry LaGreca each had an RBI to help out. SD starter Alley Lunsford allowed just 4 hits, 1 earned run, 4 walks, and struck out one batter in 6.1 innings to get the victory.
Franklin County 17, Blackford 4 – FC's Karlie Hahn went 3-for-3 with 3 RBI and 3 runs scored. Camryn Brewer hit a grand slam to end the game with 4 RBI and 2 runs scored.
Eastern Hancock 16, Franklin County 15 – The Wildcats outhit their opponent 15-12, but couldn't outscore them. Camryn Brewer hit her second grand slam in as many games to end with 5 RBI and run. Michaela Fehrman was 4-for-5 with a home tun, 3 singles, an RBI and a run scored.
Switzerland County 9, South Ripley 1
Oldenburg Academy 15, Indianapolis Howe 3
Oldenburg Academy 20, Indianapolis Howe 0