Milan softball's Taryn Cline and Abby Ferreira each had 5 RBI in a win Monday. Find local varsity sports scores with one click, presented by Beacon Orthopaedics & Sports Medicine.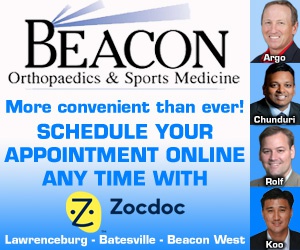 Please report missing scores to 888-537-9724 or email sports -at- eaglecountryonline.com.
BASEBALL
East Central 17, South Dearborn 12 – South Dearborn out-hit EC 16-11, but the Trojans plated more runs. Both teams committed 4 errors. Four SD Knights had multiple hits, led by Tristan Rinehart who went 4-5 with 3 RBI's. Adam Dixon tallied 3 hits and knocked in a run. Brady Fentress had a double and a 2-run triple, and Kane Curry added a single and a double and drove in 2 as well.
Lawrenceburg 6, Batesville 3 – Austin Weimer, Payton Hartman, Eli Helton, Ethan Weimer, and Will Halbig each had at least one hit and one RBI for Lawrenceburg. Etahn Weimer was the Tigers' winning pitcher, going 7.0 innings with 6 strikeouts, no walks, 5 hits, and 1 earned run allowed. For Batesville, Trey Peters, Calvin Sherwood and Sam Voegele each had an RBI.
Varsity baseball:
Batesville 2
Lawrenceburg 6
End of fourth inning. pic.twitter.com/FYGN7Lu9sz

— Batesville H.S. (@BulldogsBville) April 30, 2018
Franklin County 7, Greensburg 5
Rising Sun 17, Jac-Cen-Del 0
South Ripley 10, Milan 0 – South Ripley's Luke Welch pitched a complete game shutout.
Switzerland County 13, Shawe Memorial 3
Southwestern 7, Oldenburg Academy 4
GIRLS TENNIS
Madison 3, South Dearborn 2 – South Dearborn's winners included #1 singles Madison Fentress over Kortney Neukam 6-0, 6-2 and #1 doubles Brooklyn Comer and Emily Seward defeated Hannah Huff and Grace Brautigam 6-2, 7-5.
SOFTBALL
Jac-Cen-Del 6, Rising Sun 3 – Rising Sun's three runs were all knocked in by Abby Wallace, who had two doubles in the game.
Milan 21, South Ripley 2 – Milan's bats were hot in this one, as the Indians pounded out 13 hits. Taryn Cline went 2-for-3 with 2 doubles, 5 RBI, and 3 runs scored. Abby Ferreira was 3-for-4 with 5 RBI, 2 runs, and a stolen base. Milan pitcher Lexi Wert pitched 4.0 innings with 6 strikeouts, 1 walk, 2 hits, and no earned runs.