The state-of-the-art indoor golf facility will help high school and junior schools golfers improve their game.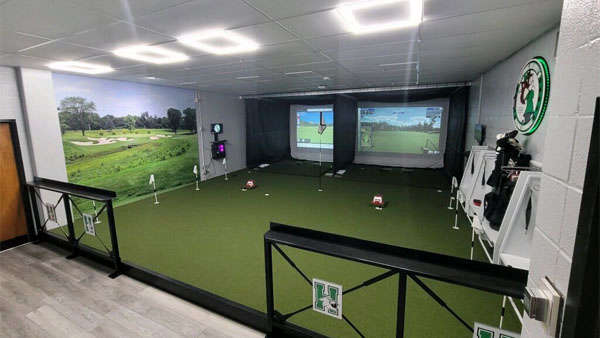 Hitting Henry's Home Course. Photo by Harrison Golf (@HarrisonGolfers).
(Harrison, Oh.) - Harrison High School's golf program just took things to the next level.
On Wednesday, Hitting Henry's Home Course was unveiled.
Located in a vacated classroom, the indoor instruction facility features two hitting bays with real feel, top of the line hitting mats, two golf simulators/swing analyzers, putting green, and storage for bags and equipment.
The space will be used by the boys and girls high school and junior high programs to improve their game.
Let's go!!! #THINKBIG @HarrisonGolfers @RHITgolf @mlaughman @MikeDyer @OHSAASports @OHADNewsHS @eagle993 @ENQSports @EnquirerShelby @swocsports @SWOSportsDaily @HDLNS @SLSDSuper @SLSDLindley @SLSDNiehaus @HarrisonWildcat @demcatsdoe @_STDUB https://t.co/63LeSIE0Bm

— Harrison Wildcats AD (@wildcatsofhhs) August 11, 2021
Tonight we make Headlines! 🏌🏻‍♀️⛳️🏌️‍♂️@HDLNS #THINKBIG @MikeDyer @mlaughman @swocsports @SWOSportsDaily @OHADNewsHS @OHSAASports @_STDUB @HarrisonGolfers @GCGA @RHITgolf @PGATOUR @GolfChannel @ENQSports @EnquirerShelby @SLSDSuper @SLSDLindley @SLSDNiehaus @SouthwestLocal @eagle993 pic.twitter.com/8FA3GUEBVt

— Harrison Wildcats AD (@wildcatsofhhs) August 11, 2021

Tonight we make Headlines! 🏌🏻‍♀️⛳️🏌️‍♂️@HDLNS #THINKBIG @MikeDyer @mlaughman @swocsports @SWOSportsDaily @OHADNewsHS @OHSAASports @_STDUB @HarrisonGolfers @GCGA @RHITgolf @PGATOUR @GolfChannel @ENQSports @EnquirerShelby @SLSDSuper @SLSDLindley @SLSDNiehaus @SouthwestLocal @eagle993 pic.twitter.com/aQbD9p7PcO

— Harrison Wildcats AD (@wildcatsofhhs) August 11, 2021

Here are some more photos:

Turned out pretty amazing. Matches perfectly with our amazing community/parents/students, etc pic.twitter.com/14OCrk71Wb

— Harrison Golf (@HarrisonGolfers) August 12, 2021
RELATED STORIES
Harrison Athletic Department Aiming To Create Indoor Golf Lab