Two former coaches and an outstanding track and cross country athlete make up the 2019 induction class.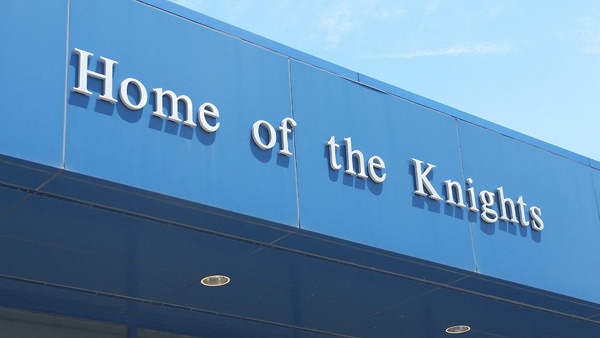 File photo
(Aurora, Ind.) - South Dearborn High School is announcing the three newest inductees of its athletic hall of fame.
The 2019 South Dearborn Athletic Hall of Fame class includes Gary Hall, Timothy Tyler and Whitney Taylor Locklin.
"These three athletes and coaches exemplified excellence at a high level," according to an announcement from the school.
Hall was a longtime track and field coach at Dillsboro and South Dearborn high schools from 1975 until 2014. Tyler graduated from Aurora High School in 1972, then taught and coached in the school corporation for 34 years. Locklin is a 2005 SDHS grad who was a basketball, track and cross country star who ran at the University of Alabama.
Full bios for each athlete, as provided by the school, are below.
The new hall of famers will be formally inducted during a ceremony at the South Dearborn High School auditorium on Friday, May 24. The ceremony will start at 6:30 p.m. All are welcome.
Anyone who would like to nominate a former athlete for consideration, can do so by completing the nomination form found on www.southdearbornathletics.com and click on the MORE tab. Petitions can be dropped off at the high school office or emailed to athletic director Ryan Walston at ryan.walston@sdcsc.k12.in.us.
Gary Hall, Special Contributor to SDHS
Gary graduated from Milan High School in 1971. Played football and basketball. Ran track and set numerous records which still stand today. Head Coach Cross Country and Track coach at Dillsboro High School from 1975-1978. Head Boys Track and Field coach at South Dearborn High School 1980-2014 producing 3 Sectional Team Champions, 4 Sectional Team Runner-up, 5 EIAC Team Champions, 3 EIAC Team Runner-up, 19 State Qualifiers, 2 All-State Athletes, 56 Individual Sectional Champions, 2 Regional Champions and 99 Individual EIAC Champions. Head Coach Girls Cross Country 1987 & 1989 producing 1987 Sectional Team & EIAC Team Champions.
Timothy Tyler, Special Contributor to SDHS
Tim graduated from Aurora High School in 1972. Played basketball, baseball and ran track. He taught in the South Dearborn Community Schools for 34 years. Coached 5th, 6th, 7th and 8th grade basketball for 13 years at Moores Hill School. Head Girls Tennis Coach 2004-2013 at SDHS. Refereed elementary and middle school basketball games for 33 years. Outside of school he played softball for 17 years, coached Girls Softball for 6 years, ran numerous marathons and participated in Relay for Life events. Tim was an inspiration to all he came in contact with.
Whitney Taylor Locklin, South Dearborn High School, 2005
Whitney participated in Cross Country, Basketball and Track and Field. Basketball 2 year letter winner. Cross Country Individual Accomplishments: 2004 EIAC Champion; All-EIAC 3 years; All Sectional 2 years; 2004 All Regional. Cross Country Team Accomplishments: Team Sectional Runner-up 3 years and Team Regional Runner-up 2 years. Track and Field Accomplishments: 8 time EIAC Champion; 6 time Sectional Champion; 4 time State Meet Qualifier (1st Athlete to do so); SD School Record Holder 4 x 800 Relay; Member 2005 EIAC Championship team; member 2004 and 2005 Sectional Runner-up teams. Ran for the University of Alabama in both Cross Country and Track and Field.