The Class of 2022 is the Hall of Fame's first induction class since 2020.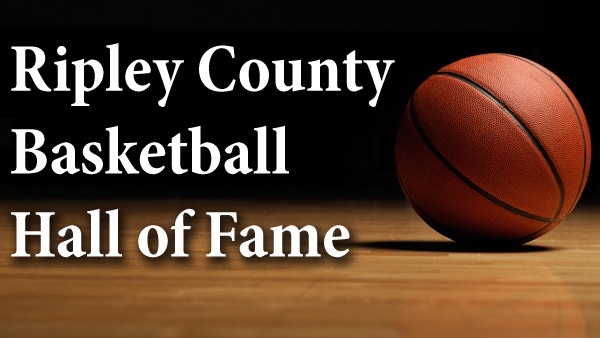 (Ripley County, Ind.) - The Ripley County Basketball Hall of Fame Board of Directors is pleased to announce the 2022 induction class, most recently voted on during the group's November meeting. This is the Hall of Fame's first induction class since 2020 as a 2021 group was not inducted due to the COVID-19 pandemic.
Over 40 Hall of Fame nominations spanning all past and present Ripley County schools were considered by the Board of Directors. The following eight individuals make up the 2022 class and will be formally recognized in-between the consolation and championship games of the 2022 Ripley County Boys Basketball Tournament on Saturday, January 8 at Batesville. An induction ceremony will be held in April at a date to be announced later this winter.
Roger Ertel, Sunman (1954)- Ertel, a 1954 graduate at Sunman, was a four-year letterwinner at the school in both basketball and baseball and held a career-high 13 points per game average his senior year while also being named to the all-county and all-sectional teams. He was recognized on both teams as well his junior year. Ertel's prowess and knack as a competitor was noted by all who competed against him which included praise from legendary Milan head coach Marvin Wood who said that stopping Ertel was the key in knocking off the Tigers. Ertel would go on to enlist in the United States Army after graduation and would later return to the area and be involved with the Sunman Little League Baseball program and the St. Nicholas grade school basketball teams.
Joanie (Peetz) Menchhofer, Jac-Cen-Del (1978) - Menchhofer starred as one of the catalysts of the famed Jac-Cen-Del girls basketball teams of the late 1970s that now features four other team members inducted in the Ripley County Hall of Fame. A point guard and one of the great passers in the area's history, Menchhofer's abilities paired well with her teammates in leading the Lady Eagles to three sectional titles, three regional titles and an appearance in the 1978 IHSAA Girls Basketball State Championship. Although Jac-Cen-Del was never able to fulfill the quest for a state title, Menchhofer and company set a precedent for girls basketball in the state and defined early on the powerhouse small school tradition at the Eagles Nest.
Richard Charles Smith, Jac-Cen-Del (1974) - Smith excelled in Osgood and his sophomore season saw Dave Porter's crew advance to the 1972 IHSAA Regional where the team would finish runner-up to eventual state champion Connersville. His time on the hardwood would also see the team be crowned Ripley County Tournament champions twice. A tenacious player and rebounder, Smith's accolades include two all-conference team selections, two all-sectional selections and a one bid to the all-county team. He led the Eagles in scoring and rebounding in 1974 before graduating and going on to serve 23 years in the United States Marine Corps. Smith currently assists his nephew, Scott Smith, with the Jac-Cen-Del girls basketball team.
Geoff Cutter, Milan (1978) - Cutter will go down as one of the best boys basketball players to don black and gold and he would be one of the school's most decorated athletes, earning 11 varsity letters. He graduated as Milan's third all-time leading scorer in 1978 and was the team's leading scorer in 1977 and 1978, finishing with over 800 career points. A team captain and also team leader in assists, Cutter was named all-county and all-sectional twice while also posting a career-high 28 points and earning the coveted Milan Blanket Award. Cutter would land several offers to collegiately play football, tennis and basketball before settling on the two latter at the University of Dubuque (Iowa).
Brian Samples, South Ripley (1986) - South Ripley knew Samples as a boys basketball player who was a three-year starter between 1984 and 1986 -averaging 10 points and eight rebounds for his career- but it would be his coaching resume that was especially Hall of Fame worthy. A long-time assistant coach at Jac-Cen-Del and head softball coach for the Eagles -including a state finals appearance in 2007- Samples would coach the Lady Raiders in Versailles and in doing so become the all-time career coaching leader with a record of 144-48. Positing three 20-win seasons, South Ripley would win six sectionals in his eight seasons and finish Class 2A regional runner-up twice. His two tenures were from 2008-2013 and 2016-2019. A winner of three county and conference crowns, he was also an assistant coach for Jac-Cen-Del's girls basketball state title team in 2016.
Erin (Mulford) Brown, South Ripley (1993) - Brown, formerly Mulford, left South Ripley with three school records and totaled 731 points and 550 rebounds during a career that saw her earn a total of 16 varsity letters in a combined four sports. Her stat totals also included 42 double figure scoring games in her career with the green and white posting a four-year record of 44-33. Winning two conference titles and a county championship, Brown was the 1993 ORVC Co-MVP and was a two-time all-conference selection. She was the first Lady Raider selected to the state's Top 40 workout and was a mainstay as a leader in the area in points and rebounds while also collecting 32 blocked shots her senior year. She would go on to a volleyball and basketball career at DePauw University after one year of volleyball at the University of Cincinnati.
Adam Westerfeld, Batesville (1992) - Westerfeld is 12th on the all-time scoring list for Batesville boys basketball with 810 points and the 1992 graduate was one of the more prolific scorers, three-pointer shooters and free throw shooters of the area during his time. Westerfeld is 12th all-time with a single-season free throw percentage mark of 80 percent and his 50-plus three-pointers in 1992 are 12th all-time at the school for single-season trifectas made. Westerfeld's two best single game scoring marks included games of 33 points and 30 points. His freshman season saw the Bulldogs win the sectional and finish as a regional runner-up to Connersville.
Roy Miller, Holton (1951) - Miller, the Hall of Fame's 2022 Meritorious Award winner, has been not only a well-known citizen of Ripley County but has been an avid supporter of high school basketball in the area. A 1951 graduate and former player at Holton, Roy would go on to serve as an official timer and scorer at many basketball contests including the postseason and Ripley County Tournament. In later years, Miller became a mainstay fan and has been seen at every county school, rooting on local student-athletes while still showing a love for high school athletics and community.