Robben is one of seven players in the Sycamore's 2019 signing class, which includes Batesville's Hattie Westerfeld.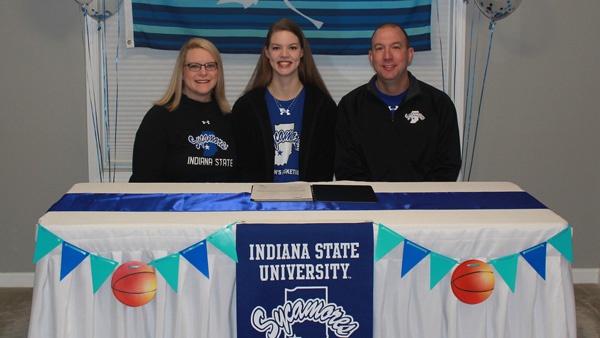 East Central High School senior Alyssa Robben, here with her parents Ann and Kevin, has signed to play basketball at Indiana State University. Photo provided.
(St. Leon, Ind.) - Division I basketball is in the future for an East Central Lady Trojans star.
Senior center Alyssa Robben signed her letter of intent to play basketball at Indiana State University on November 15.
The EC Girls Basketball Program wanted to say congrats to one of our own, Alyssa Robben, on her commitment to Indiana State.

— Kevin Moore (@CoachKevinMoore) November 15, 2018
Last season, Robben averaged 11.4 points, 6.6 rebounds and 1.6 blocks per game.
Robben is one of seven players that will be incoming freshman at Indiana State next season. Her soon to be coach Vicki Hall is excited to have Robben in the 2019 signing class.
"She is a big girl that is a low block five that can really score," said Hall. "She has a high motor, loves to play up and down and can rebound the ball well. She is going to be another low block presence for us that can help us."
Robben will join EIAC foe Hattie Westerfeld at Indiana State. The Batesville Lady Bulldogs star is another frontcourt player who can help the Lady Sycamores. So far this season, Westerfeld is averaging a double-double at 12.0 points and 10.8 rebounds per game.