The Lady Trojans return four starters from a team that won a school record 23 games in 2019-20.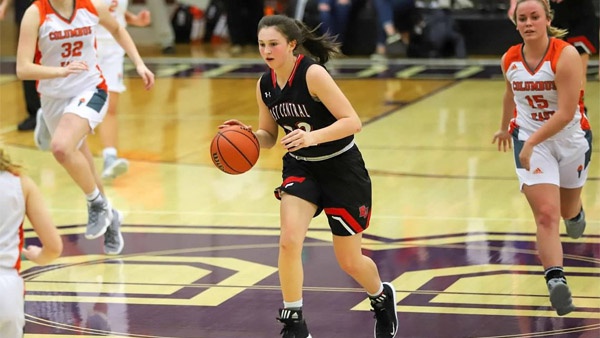 Sophomore Josie Trabel leads a talented group of returning players at East Central. Photo via @EastCentralGBB.
(St. Leon, Ind.) - The East Central Lady Trojans have a lot of talent coming back after an impressive 2019-20 campaign.
Last season, East Central went 23-6 setting the school record for wins in a season. They also captured their first sectional championship since 1992 and were a few plays away from winning the regional title.
Expectations are high in Trojan Town, as they should be. The Indiana Basketball Coaches Association has East Central ranked 15th in the preseason poll, while the ISGCA has the Lady Trojans ranked 11th to begin the season.
Additionally, the East Central girls basketball program is one of nine teams across the state that has won 16-plus games in eight consecutive season.
Head coach Kevin Moore tells Eagle Country 99.3 that season goals include eclipsing the 16-win total, winning the EIAC, and winning the sectional. But most importantly, Coach Moore wants to see his team make a deep run into late February.
Leading the charge will be sophomore Josie Trabel. As a freshman, Trabel averaged 16.1 points, 6.3 rebounds 1.4 blocks, 1.3 steals and 1.3 assists per game. She also shot 57 percent from the field on her way to being named to the IBCA Large School Underclass All-State Team.
Also back is sharpshooting guard Hope Fox, who averaged 9.8 points a season ago, while shooting 41 percent from three.
"They haven't even really scratched the surface yet," said Coach Moore. "I think they could be one of the top scoring duo's in the state."
HEAR DOUBLE T'S FULL INTERVIEW WITH COACH MOORE IN THE AUDIO PLAYER BELOW
Do-it-all guard/forward Kyla Maxwell returns as does Emma Ertel and Charsan McCory. Other Lady Trojans expected to contribute include Ashley Nobbe, Julia Tiemann, Natallie Schnell, and Makenzie Vignale, among others.
"Our kids need to play their roles. Whatever that role may be, if you're the scorer, if you're the distributor, if you're the scarp yard dog as we call it (Emma Ertel) fill that role to the maximum. If we can do that and play for each other, I feel strongly that this team has the opportunity to play deep into February."
In order to play deep into the postseason, East Central's mentality is to challenge themselves during the regular season. This year's schedule features out of conference games against Heritage Christian, Mount Vernon (Fortville), Bedford North Lawrence, and Columbus East. The Lady Trojans will find plenty of challenges locally with by the likes of Greensburg, Lawrenceburg, and others.
First up for the Lady Trojans is Heritage Christian. Not only are they ranked to start the season, but their roster features one of the best players in the state.
"We're looking forward to it. They are a 2A enrollment school that plays a 4A schedule. They are going to bring in arguably the best player in the senior class, she's signed to play at Michigan in Ariana Wiggins. I know we can compete. These are the type of games that we went out and scheduled and obviously we want to win, we want to win 16 or more games, but we don't just want to win a sectional, we want to make a run into late February. When you play teams like Heritage Christian, that gives us an opportunity to do so."
The varsity contest is scheduled to tip-off at 2:30 p.m. this Saturday.
See East Central's full 2020-21 schedule below.
Nov. 7 vs. Heritage Christian - 2:30 p.m.
Nov. 10 vs. Franklin County - 7:30 p.m.
Nov. 14 vs. Richmond - 7:30 p.m.
Nov. 19 at Columbus East - 7:30 p.m.
Nov. 20 at South Dearborn - 7:30 p.m.
Nov. 25 vs. Greensburg - 7:30 p.m.
Nov. 28 at Mount Vernon (Fortville) - 7:30 p.m.
Dec. 5 vs. Jennings County - 1:30 p.m.
Dec. 11 at Columbus North - 7:30 p.m.
Dec. 16 at Jac-Cen-Del - 7:30 p.m.
Dec. 19 at Batesville - 6:00 p.m.
Dec. 29-30 Scottsburg Tournament
Jan. 2 at Bedford North Lawrence - 3:30 p.m.
Jan. 9 vs. Rushville - 7:30 p.m.
Jan. 12 vs. Cincinnati HomeSchool - 7:30 p.m.
Jan. 15 vs. Batesville - 7:30 p.m.
Jan. 19 at Lawrenceburg - 7:30 p.m.
Jan. 21 at Franklin County - 7:30 p.m.
Jan. 25 at Dixie Heights (Ky) - 7:00 p.m.
Jan. 28 vs. Connersville - 7:30 p.m.