Lawrenceburg opens the season this Friday at East Central. Eagle Country 99.3 will bring you the call.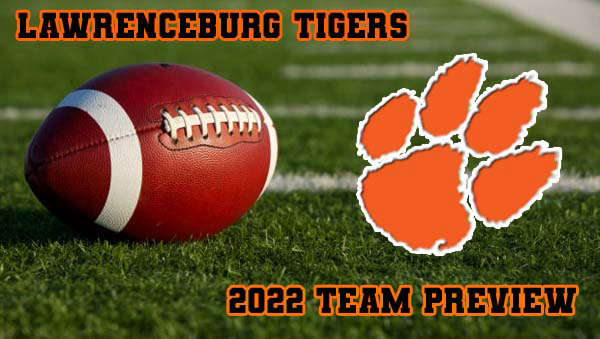 (Lawrenceburg, Ind.) - Expectations have not changed in Tiger Town following the graduation of a stellar senior class.
Lead by two Division I athletes and a host of other star players, Lawrenceburg finished last season with an 11-2 record and a third-straight sectional championship.
Gone are Ashton Craig (Notre Dame), Dahya Patel (Ball State), Garrett Yoon (St. Francis), Braydon Watkins (St. Ambrose), Micah Foster (Hanover) and other star players such as Aiden Gilmour and Luke Pierce.
Behind that group, the Tigers largely dominated their sectional with the exception of a 15-7 win over Greensburg in the semifinals during a torrential downpour. At the regional, Lawrenceburg would fall 31-29 to eventual state champion Gibson Southern.
Head coach Ryan Knigga said the loss still burns a little bit because Gibson Southern won the game on their first made field goal of the season.
"We got on a roll, and we won 11 in a row, and we've done that the last few years," said Knigga. "We've just faced some really good teams at that regional level. If you told some people at the beginning of the year that you were going to go 11-2 and win a conference title, a sectional, and have a chance to make a deep run in the playoffs, there's a lot of teams that would sign up for that."
With the start of the 2022 season just days away, the Tigers have turned the page and our focused on their goals of winning an EIAC championship, a sectional title, and making a deep playoff run.
To win an EIAC title, the Tigers will have to go through East Central, Franklin County and Connersville as the conference has been realigned due to enrollment numbers among the eight conference teams. Coach K hinted that an announcement will be coming soon regarding names for the new divisions.
Lawrenceburg's sectional will also look a little different with the additions of South Dearborn, Indian Creek and Centerville.
From a personnel standpoint, the Tigers will have a new signal caller this season. Junior Logan Ahaus is the successor to Garrett Yoon, who was a four-year starter. Ahaus will have some big shoes to fill as Yoon finished his career with 9,115 passing yards, the 12th most in state history. He also accounted for 146 career touchdowns.
Ahaus saw some action as a sophomore, going 14-21 for 185 yards and a touchdown.
"Logan's had to sit over there for two years and give our signs to Garrett knowing that his time would be coming his junior year. The first thing that sticks out about Logan is his arm strength," said Knigga.
Ahaus will have some speedy wide receivers to work with this season.
Brayden Combs and Hayden Saylor, along with tight end and linebacker Alex Witte were state qualifiers in the 4x100 relay last spring. The speedsters will be tasked with replacing the production of Dahya Patel (67 receptions, 1,152 yards, 15 TDs) and Aiden Gilmour (43 receptions, 774 yards, 6 TDs).
"It's no secret we lost a lot of great football players and a lot of great players that played a lot of downs for us. But graduation is a healthy thing. We've been here before, we've lost good players before. This isn't the first time, and it isn't going to be the last time. But we feel like we have some guys that are capable of stepping up and making plays for us," said Knigga.
Lawrenceburg does welcome back one of their top rushers from last season. Junior Teagan Bennett has added 15-20 pounds over the offseason as he looks to build upon a 17 touchdown season a year ago.
On the offensive line, the Tigers should be strong on the interior with returning starters Joey Cavanaugh and Colton Roth. Jacob Pierce will move from fullback to right guard.
Defensively, Lawrenceburg returns all four starting linebackers including 2021 EIAC 3A Defensive MVP Niko Ferreira, Jacob Pierce, Alex Witte, and Noah Knigga, who was just named to the 2022 Indiana Preps Underclass Top 22 All-State Team.
Brennan Bushman rounds out the returning starters at corner back.
Key returning players:
RB Teagan Bennett (Jr.) - 109 carries, 752 yards, 17 TD
C Joey Cavanaugh (Sr.) - Returning starter
LG/DT Colton Roth (Sr.) - Returning starter
TE/LB Noah Knigga (So.) - 69 tackles, 14 TFL, 5 sacks, 3 fumble recoveries
TE/LB Alex Witte (Sr.) - 51 tackles, 10 TFL, 5 sacks, INT, 2 fumble recoveries
RG/LB Jacob Pierce (Sr.) - 82 tackles, 6 TFL, INT, 3 fumble recoveries
LB Niko Ferreira (Sr.) - 116 tackles, 11 TFL, 8 sacks, 2 INT
WR/CB Brennan Bushman (Sr.) - 6 receptions, 80 yards; 16 tackles, INT,
QB Logan Ahaus (Jr.) - 14-21, 185 yards, TD
Other potential standouts: RT Logan Fehr, WR Hayden Saylor, WR/S Brayden Combs, DE Sam Cornett, DE Elijah Freeman, FS Zavyn Slayback, CB Solomon Fisher, TE Jake Gourley, OL Bryce Hedrick, DL Waylon Lambert, DL/LB Drake Rorabacher, WR Keaton McGrath
Lawrenceburg will start the 2022 season ranked sixth in Class 3A, which means their first game against East Central will be a matchup of Top 10 teams. East Central is ranked seventh in Class 4A. Friday's game in St. Leon will also be an important conference game for the Tigers and Trojans.
"Our expectations have not changed, said Knigga. "I think sometimes people look at they are going to be down this year. We need to change our expectations about how many wins we might have this year, or can we compete with teams X, Y, and Z. That's the thing we have tried to preach to our football team is from our standpoint our goals and expectations of this team are still the same. We did lose a great class, but that's ok. We still have great football players, good kids, a great team and our expectations aren't changing."
The expectations don't stop with winning the EIAC. The Tigers are trying to win a fourth consecutive sectional title, a feat that has only been done once in school history (1978-1981).
"You're remembered by championships, and we've been able to win a few," said Knigga. "That's something we have focused on with our seniors this year. They can be one of the first classes to go through and win four straight sectionals and that would be pretty impressive."
Tigers on Crunch Time: Crunch Time - August 15, 2022 - Crunch Time - Eagle Country 99.3 (eaglecountryonline.com)
2022 Schedule
August 19 - at East Central - 7:30 PM
August 26 - vs. Taylor (Oh.) - 7:00 PM
September 2 - vs. Milan - 7:00 PM
September 9 - vs. Greensburg - 7:00 PM
September 16 - at Franklin County - 7:00 PM
September 23 - at Batesville - 7:00 PM
September 30 - vs. Rushville - 7:00 PM
October 7 - vs Connersville - 7:00 PM
October 14 - at South Dearborn - 7:00 PM