A Hamilton, Ohio resident was first and a Greendale resident placed second at the FLW Bass Fishing League tournament on the Ohio River.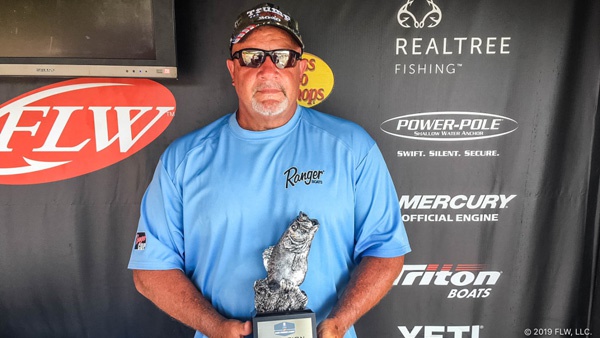 Mike Mills, of Hamilton, Ohio, with his trophy for winning the FLW Bass Fishing League event in Lawrenceburg on Saturday, August 17. FLW photo.
(Lawrenceburg, Ind.) - Craig Mills, of Hamilton, Ohio, won the T-H Marine FLW Bass Fishing League event on the Ohio River at Tanners Creek in Lawrenceburg this past weekend.
The BFL, a 24-division circuit devoted to weekend anglers, has made Lawrenceburg an annual stop.
Mills took the top spot at the big fishing tournament Saturday by catching five bass weighing a total of 10 pounds, 4 ounces. He won nearly $5,500 in prize money.
After starting his day casting in Tanners Creek with limited results over three hours, he went far up the Ohio River and fished three creeks near Meldahl Dam.
"I've fished those creeks over the years – just shallow, flat creeks. I knew they were in there, I found them in practice," said Mills, who earned his second career victory in BFL competition. "I caught them here and there – I think I had my limit by 1:00 [p.m.]. I culled a couple fish and caught my last at about 2:00 [p.m.]."
Second place in the tournament went to Michael Powell, Jr., of Greendale, who caught five bass weighing 8 pounds, 10 ounces for a prize of about $1,900. Dick Shaffer, of Rockford, Ohio, placed third with three bass weighing 7 pounds, 10 ounces and claimed $1,400.
The single-largest fish of the tournament was reeled in by Michael McCoy, of Menton-on-the-Lake, Ohio. The bass was 4 pounds, 11 ounces to earn him a Big Bass award of $435.
Samuel Jones, of Morgantown, West Virginia, won the Co-angler Division and $1,733 Saturday after catching three bass weighing 5 pounds, 2 ounces.
Full results from the FLW BFL stop in Lawrenceburg can be found online at www.flwfishing.com/results/2019-08-17-ohio-river-tanners-creek.